Warmup, maker of the first touch-screen, energy monitoring thermostat for radiant floor heating, is asking for help selecting the 3iE's newest line-up. Customers can vote at www.3iethermostat.com or on social media for a chance to win one of four iPad minis.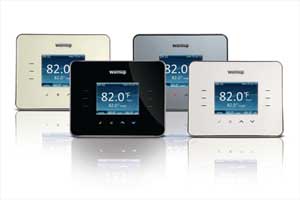 Voters can choose their favorite faceplate colors and rim colors. 
Voters can choose their favorite faceplate colors and rim colors. Faceplate colors range from the old line-up, including piano black, cloud white, classic cream, leaf green, deep pink, madison blue, silver grey and warmberry, to new colors that were created by design students and professional designers. The new colors include light blue, burgundy, grey, kraft, magenta, light grey, a water blue pattern and an old map pattern. Rim choices include chrome, copper and brushed nickel.
"We want to give our customers what they want," said Regis Verliefde, CEO of Warmup. "What essentially started with our exclusive clients and celebrity designers getting their very own designs and color schemes is now being made available to all Warmup customers. For instance, we matched the KitchenAid red Pantone for a kitchen in New York. It then snow-balled from there, and that very red is one of the colors in the contest."
Warmup will give away four iPad minis, one per week, to those that share their votes either on Facebook or Twitter using the hashtag #WarmupYourFloor. Contest ends Sunday, June 1.
About Warmup's 3iE
In addition to coming in a variety of stylish colors, the 3iE is user-friendly and features an advanced energy monitoring and a built-in ground fault circuit interrupter (GFCI). It displays actual graphs of recorded energy consumption against costs gathered while operating radiant floor heating systems. The 3iE then makes recommendations for the most efficient settings to operate the system.
To vote, visit www.3iethermostat.com today for all of the details.
---
HELPFUL LINKS: