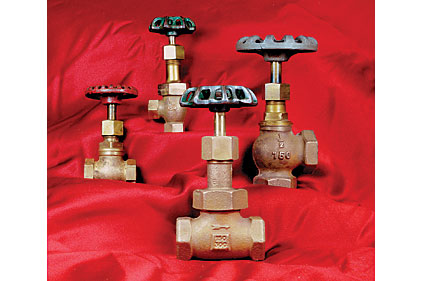 According to the Valve Manufacturers Association, it is expected shipments for the U.S. industrial valve industry will grow 3% in 2013. This would mark the fourth straight year of growth following the recession. Photo courtesy of the Valve Manufacturers Association.
Shipments for the U.S. industrial valve industry will grow 3% in 2013, increasing to nearly $4.3 billion according to figures recently released by Valve Manufacturers Association as part of its annual market forecast.
The increase marks the fourth consecutive year of growth following the recession and exceeds the industry's previous 10-year peak in 2008.
"Business here in the U.S. has picked up quite a bit," VMA President Bill Sandler told Supply House Times. "In addition to new facilities being built, a lot of replacement is going on. There continues to be significant building going on in Asia and South America. Many of our members are worldwide businesses able to acquire work overseas."
Sandler added the valve industry wasn't socked quite as hard as others during the recent economic tumult.
"The valve industry goes in a shorter cycle," he said. "We seem to go down a year after everything else does and we seem to pop back up quicker than everybody else does. Our recession period appears to be shorter."
According to a recent VMA monthly economic survey, 85% of its membership expects 2013 to be better or equal to 2012. This follows a year that turned out better than predicted as 2012 figures surpassed initial projections, reaching $4.15 billion, which represents a 22% growth over the last decade.
According to the survey, power generation is predicted to have the largest increase in shipments from 2012, rising 1 percentage point. Four other industries, including oil and gas transmission, petroleum refining and chemical, are expected to record smaller increases of 0.2 or 0.1. The water and wastewater industry is forecast to decline by 0.6 percentage points. In terms of market share, the chemical industry is the largest consumer with 17.2% of the shipments, followed by water and wastewater at 16.2%.
"I've been here 35 years and the power industry has been the shining star while others fall down. Of late, it's pretty much across the board where all industries are doing well," Sandler said. "While the overall economy seems to be not as promising, valve orders are coming in and some nice ones as well. We've been pleasantly surprised to see a lot of repeat orders. We think this bodes well for the economy since our product underpins so many others."
Out of 11 valve categories tracked, the most popular product last year was automated valves, accounting for nearly $1.3 billion in shipments. Ball valves were next, accounting for $760.5 million in shipments. The report reveals 21% of shipments are exports, a growing trend as the industry adapts to the opportunities presented by globalization.
Sandler sees the upward trend continuing in the near future. "We're still looking at growth, but probably not as large a growth rate as we saw over the past year," he said. "I think through 2016 the industry will experience a 2-3% growth on an annual basis."
VMA-member companies supply about 35% of the worldwide valve demand. The association has 60 dues-paying members representing 100 valve companies.