✕
I am often amazed by the constant innovation and technology our industry invests in. The PHCP-PVF industry isn't one to rest on its laurels — there is constantly something new in the works to improve processes and it's extremely exciting to watch.
I've had to opportunity to tour some incredible factories throughout my time in the industry — NIBCO's Stuarts Draft, Virginia foundry, Bradford White's massive Middleville, Michigan plant and Rinnai's Griffin, Georgia factory to name a few. After each tour I leave inspired by the innovation within the factories and humbled by the amount of incredible hard work the teams put in each and every day to make essential product.
Charlotte Pipe opens new foundry in Oakboro, NC
Listen to more Supply House Times podcasts.
The most recent tour I got to experience was at the grand opening celebration of Charlotte Pipe and Foundry's new facility in Oakboro, North Carolina., with 11.5 acres under one roof on 700 acres of property. Several year's back I toured the company's original, now 100-year-old, foundry situated in Uptown Charlotte, so I had a true comparison experience as I walked through the new facility.
The idea for a new foundry dates back to the early 2000s. Once the 2007-08 recession hit, the company put the plans on hold. Fast forward to 2018, it was time to dust off those plans and get serious about production. In 2019, the Charlotte Pipe board approved the company's plans and in July of 2020, they broke ground. In September of 2023, the company officially moved over to the Oakboro plant in Stanly County, North Carolina.
During the grand opening celebration event on October 26th, I had to opportunity to record a quick podcast with Hooper Hardison, CEO, and Brad Muller, vice president, corporate communications to chat about the move and what this means for the company. Check out that full conversation here.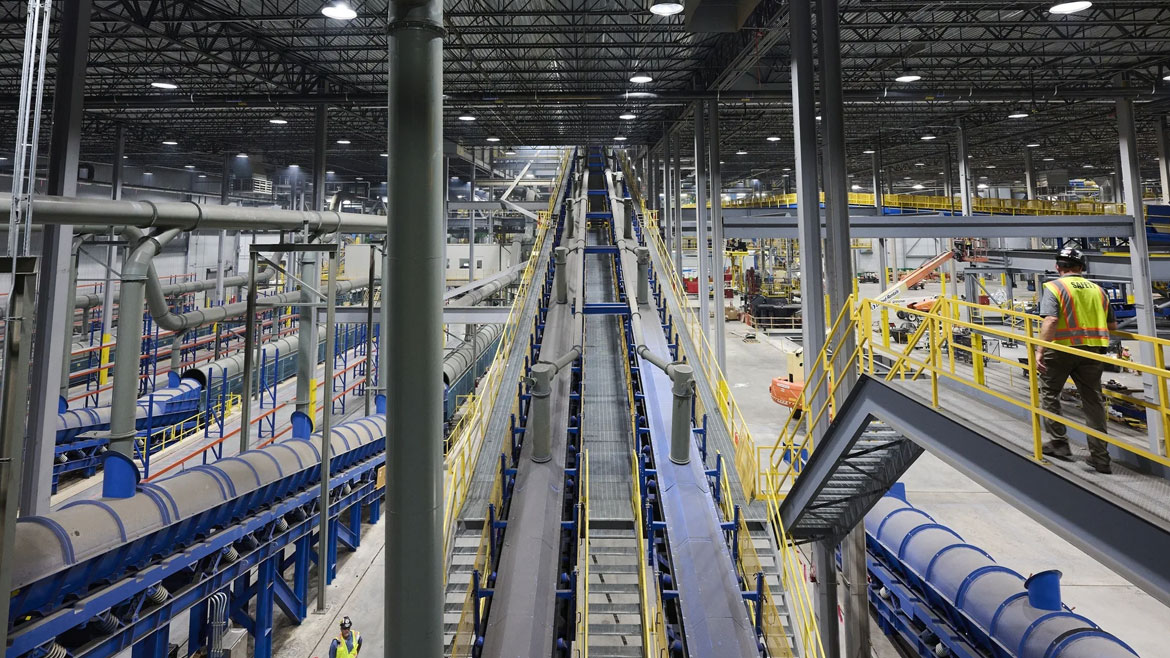 The Oakboro Foundry employs more than 530 associates, and according to Hardison, up to another 500 construction workers were on the Oakboro jobsite each day over three years, working more than 1.2 million hours to open the new plant. All construction materials and supplies for the new foundry were 100% Made in the USA, as are all Charlotte Pipe products.
According to Muller, the move to Stanly County made perfect sense for the company and its associates. "With so many of our employees already residing in Stanly County, it feels like we've been part of the community here for a long time," he says. Approximately 60% of the company's associates live in or around Stanly County, meaning their commute to work just got a lot shorter. The company is already involved with helping the local volunteer fire department and some local small businesses, as they have food trucks come in everyday for employees to choose from for lunch.
Understandably so, Hardison says it was bittersweet to leave the Clarkson Street foundry. "We've had many great memories in our original foundry, so it was emotional to do the last pour there and officially end production," he says. "But at the same time, we knew we needed more room to grow and stretch our elbows. While we were sad to leave a place with so much history, we are excited to move to new place that represents the future of our company."
The new foundry is spacious and production stations are spread out in a linear fashion, boosting productivity and safety. I noticed waking through that there were virtually no forklifts, as many of the jobs forklifts used to do have been replaced by overhead automated carriers that take melted iron from one area of the factory to another, eliminating the need for a forklift driver to transport hot iron on the ground floor.
The ceilings are much higher in the new foundry, meaning temperature and air quality are much improved from the last one. Hardison says the new facility will enable Charlotte Pipe to be more productive and efficient while growing some aspects of the business. "This new foundry allows us to grow our commercial castings business," he says. "With the larger space and new automation elements, we can grow this commercial side of the business while better serving our traditional pipe and fittings customers as well."
It's exciting to see a company so committed to investing in American manufacturing and creating jobs and boosting the local economy, especially as a fellow North Carolinian.