SHT: Tell us about the history of the L. R. Brands idea and name?
CO: L.R. Brands is part of Oatey Co., which was founded in 1916 by Lee Roy Oatey, who went by the name L.R. Oatey. Named after our founder, L.R. Brands pays homage to our century-long heritage of delivering high-quality behind-the-wall products for tradespeople, even as we expand our footprint in the front-of-wall, designer-focused space.
SHT: What went into the decision to create L. R. Brands?
CO: For more than 100 years, Oatey Co. and its brands have been trusted for their world-class products in the rough plumbing space. As we continue to innovate and grow, we're expanding our footprint in the showroom/decorative space. L.R. Brands serves as the umbrella for us in the showroom, under which our QuickDrain and 1916 Collection brands fall.
SHT: What can distributors, contractors and end users expect out of L. R. Brands?
CO: L.R. Brands is a carefully curated collection of bathroom accessories and products that take your design to the next level. From elegant total shower solutions to freestanding tub drains, L.R. Brands is the home for design-minded individuals. Those who can appreciate that when it comes to bathroom design, the difference is always in the details.
At L.R. Brands, we are just getting started. Many will be familiar with our QuickDrain products, which now fall under the umbrella of L.R. Brands – featuring innovative total shower solutions, linear drains, decorative covers and finishes and more. We also recently introduced 1916 Collection, a portfolio of thoughtfully designed, exceptionally engineered bath accessories, including the recently launched Freestanding Tub Drain, that enhance both of the form and function of every bath experience.
You can expect that our 1916 Collection will continue to grow as we add additional bathroom accessories that expand our presence in the showroom and decorative market.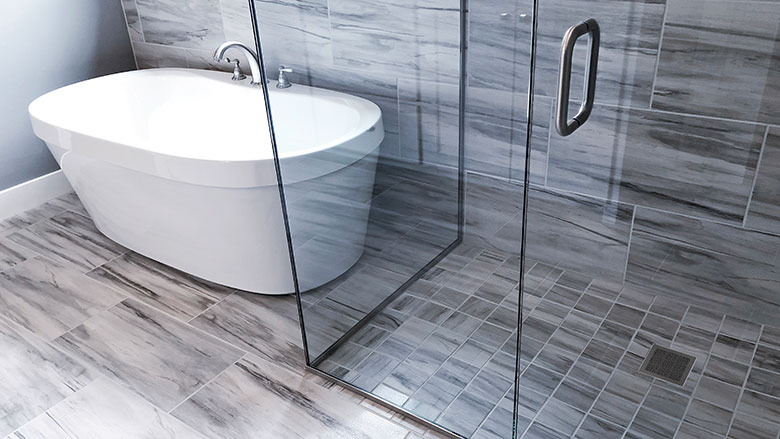 SHT: Describe the 1916 collection and what it includes.
CO: 1916 Collection is a portfolio of thoughtfully designed, exceptionally engineered bath accessories, including the recently launched Freestanding Tub Drain, that enhances both the form and function of every bath experience. The Freestanding Tub Drain is an excellent example of what we plan to achieve through 1916 Collection: it's the simplest, most convenient way to install a freestanding tub, taking the guesswork out of a cumbersome process, improving efficiency and lowering costs. We plan to further expand and grow the 1916 Collection in the years to come.
SHT: How does this new subsidiary affect Oatey's path as a company moving forward?
CO: At Oatey, we are laser-focused on our purpose to Deliver Quality, Build Trust and Improve Lives. That means we're dedicated to staying connected with our end-users, understanding their pain points and delivering thoughtful, well-engineered solutions that make their lives easier. With the addition of L.R. Brands, we are positioned to continue to deliver compelling new products both behind and in front of the wall, with a particular emphasis on the showroom space.
SHT: What are the most prominent trends you're seeing in residential bathroom design and products? Are there trends on the rise that you expect to see develop over the next year or so?
CO: Now more than ever, homeowners are interested in investing in their bathrooms to make spa-like, oasis spaces in their own homes. This trend impacts demand for a variety of products, ranging from smart home technology in the bathroom to curbless wet room experiences and freestanding tubs. Often, these trends intersect nicely with universal design and aging-in-place solutions that homeowners are prioritizing during renovations. Despite the fact that we're getting back to a "new normal" in the wake of COVID, we don't anticipate these trends waning anytime soon – homeowners have a new appreciation for their residence and the experiences they create for themselves at home.
SHT: What are the top wants and needs of contractor customers and end users in the bathroom sector? What things should distributor/showroom partners be doing to best work with you to help meet those needs?
CO: There are a few key things that have been a top priority for contractors and end-users over the past couple of years: Product availability and efficiency/ease of use. It goes without saying that supply chain challenges and disruptions related to the pandemic have impacted the entire industry, and contractors and end-users of all types want to ensure the product they need is available to them when they need it. At the same time, with such high demand for new builds and renovations, contractors, in particular, are looking for product solutions that help them complete a job efficiently without sacrificing quality.
To help meet these needs, it's critical for manufacturers and distributors to continue to have open lines of communication, remain flexible, and keep the end-user front and center to ensure we are working together to deliver relevant solutions that help them get the job done, no matter what.