When a company doubles in size every five years, you know it's doing something right. At least this is true for Lebanon, Pennsylvania-based APR Supply Co., as it's celebrating this exponential growth as well as 100 years in business under three generations of family leadership.
APR began with Mark Tice who worked for Lebanon Plumbing Supply Co., founded in 1922. Years after Tice had purchased controlling interest of that company, his son, Randy Tice, joined the industry by launching his own controls business – Environmental Equipment Engineering Co. in 1975. The two companies soon merged to form APR Supply Co., and the Tice-Weaver families have led the operation ever since.
Since that time, APR Supply Co. has grown to service its plumbing, hydronics and HVAC customers through 39 branch locations, a new 350,000 square-foot central distribution center and nine Oasis Kitchen and Bath Showroom locations.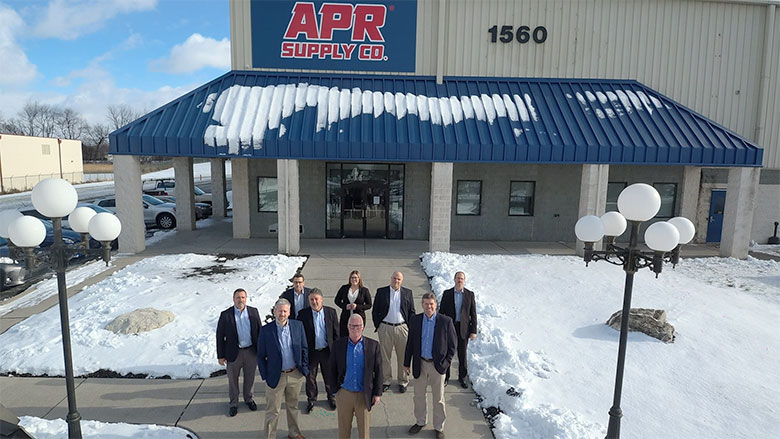 Intentional practices, without fail
Being bold and intentional are two characteristics of APR Supply Co. that President and CEO Scott Weaver uses often when discussing the company's success. According to Weaver, the family core values the company was built on are what still drives it today. "The values we hold today aren't new," he says. "They're the same as the ones we had 100 years ago, and they're the same as what we believe should be around in another 100 years."
No doubt many changes have faced the company over the past century, tremendous growth in numbers being one of them.
Dave Robinson, executive vice president and COO, says the size of the company calls for greater reinforcement of its values. "As we've grown larger, we've had to be more purposeful with our core values," he says. "Size hasn't changed our principles, it just pushes us to ensure consistency across the company with constant reinforcement of what we're about."
Terry Ludwig, executive vice president agrees, pointing out the company's system to help drive consistency among its 440 employees.
"We have what's called 'Without Fails,' which is essentially a list of must-dos in terms of disciplines across the company," Ludwig says. "We have seven or eight things that we strive to do no matter what, such as answering the phone by the third ring, responding to customers within three hours, if not sooner, for example."
APR's Without Fails are largely centered on the customer experience and are utilized from the onboarding process throughout the day-to-day operations of the company, even a decade after the document was created.
"One simple Without Fail is that if someone is within 10 feet of you and you know their name, say 'Hello,' and address them by name," Weaver adds. "And when they're leaving our building, do the same, telling them to have a great day."
This consistency serves as a tool for APR to maintain its culture and positive reputation, no matter which of the branches you're in.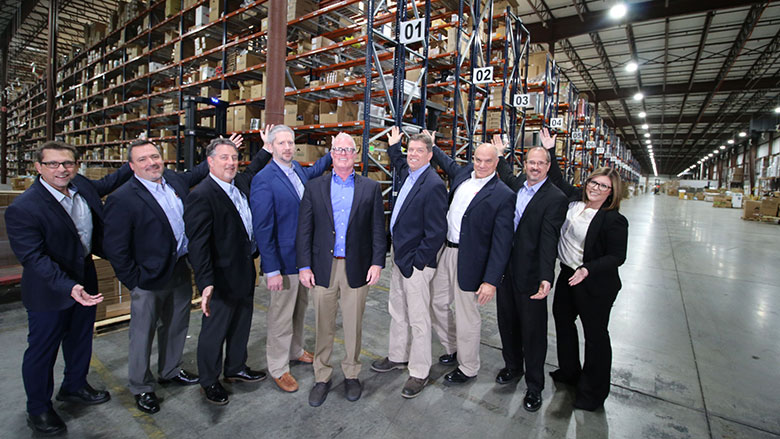 Ahead of the curve
APR Supply's boldness carries over to its financial and technological decision-making, as the company has the tendency to be proactive, rather than reactive.
Weaver points out one particular time when the company acted boldly during a downtime. "In 1992 —during a recession — APR was the 6th ever customer of Eclipse (an ERP system today known as Epicor)," he explains. "Randy Tice was the president at that time. We chose to make a huge investment during a risky time, and it has paid off tremendously for the company; we still use Eclipse as our system today."
Robinson adds another turning point for the company; its adoption of an open and transparent management style in 2000. "We made the decision first to be transparent with our financials," he says. "But it transcended into transparency across all areas of our business management; sharing the 'why' in why we do what we do."


APR Supply core values:
► Customer   ► Accountability   ► Excellence   ► Results
Joining the Affiliated Distributors (AD) buying group in 2008 serves as another staple in APR's success. Also in 2008-2009, according to Robinson, the company "chose not to participate," in The Great Recession by going against the grain and committing to having inventory. "We were rewarded for that decision back then, and it's similar to how we chose to respond to COVID — being proactive with inventory purchasing and not pulling back like many others did."
Commitment to inventory meant expanding the company's geographic footprint. "Directly after The Great Recession, we expanded our footprint by opening several new branches; again, being bold while many others were still licking their wounds," Weaver says.
Weaver summarizes these times by explaining APR has always been a fiscally conservative company with a strong balance sheet. "We've tried to leverage our strong balance sheet at the right moments," he says. "This strategy has allowed us to make bold investments over the years which have propelled us to grow and expand at the rate we are."
Relentless pursuit of growth
Over the past century, APR Supply Co. has displayed a focus on growth; via acquisitions, additional branches starting from scratch and through strategic partnerships. But Ludwig points out that it wasn't always a universal mindset across the leadership team.  
"Earlier on in my career, Scott was beginning to share his relentless focus on continuous growth, and there were some members of our leadership team that weren't completely on board," Ludwig says. "I may have even been skeptical myself. But after that first five-year mark where we followed the aggressive growth plan and doubled in size, I became a believer in it. So we've focused on adding members to our team that believe in the growth-centric vision we have for APR."
Weaver adds that the company looks to the future, focuses heavily on strategic planning and invests in technology, but at the end of the day, "Our culture is our success."
To celebrate the company's growth and 100-year anniversary, Vice President of Marketing Teri Rogers is spearheading a documentary-style video series sharing the company's rich history. The series — "Spotlight 100" — releases a new video every other week on YouTube.
"Our goal with the series is to share the legacy of APR Supply Co. as well as the vision Scott and our leadership team have for the future." Rogers says.
Weaver adds that the company created both internal and external videos over the past couple of years to help communicate to both employees and vendor partners. "In September 2021 we opened our new, 350,000 square-foot distribution center. So many members of our team came together to open the building, so we created an internal 'thank you' video," he says. "Additionally, we created some videos for our vendors to let them know, as they decide on allocations, they're going to be dealing with who APR Supply is today, not who we were two years ago — we're now 80% greater in sales than we were before the pandemic began."
When it comes to goals for the company during its 100th year, Robinson explains it's simply to do "More of the same."
"We want to continue to perfect what we're doing in our distribution center — invest in automation and be change agents when it comes to technology in the warehouse," he says. "We also want to continue to ensure supply during the challenging post-COVID marketplace. Lastly, we will continue to reinforce our culture as our team grows."
One way Weaver is reinforcing that culture is by walking around the warehouse asking team members if they can state the mission statement. "If they could, I'd hand them $50, which created a buzz and is exactly what we need to make our culture stick," he says. "Eight-to-ten years ago, about 95% of our employees could state the mission statement and had the core values memorized. Expanding in numbers and COVID-19 have made it a little more difficult to emphasize these things, so a personal goal of mine this year is to get back to that 95%."
In addition to quarterly company meetings about culture, APR Supply also has something called "APR Culture Corner," which is a quick survey organized by the human resources team and sent out to employees every couple of weeks to exercise the team's knowledge of APR culture and core values.
Exercising relationships  
Being intentional expands outside of APR Supply Co.'s internal operations. Ludwig points out that relationships with vendors are extremely purposeful as well, and neither party rests on its laurels.
"We're open and honest with our vendor partners about how we expect and demand the same level of care for the end-user as we have," he says. "Sometimes we need their support, whether it's financially or through training, in order to pursue our commitment to the contractor, so over the years there have been times we've challenged or even changed vendor partners."
APR Supply Co. is pretty well-known for its annual buying show, which takes place in two locations — Hershey and Pittsburgh, Pennsylvania — and draws a hearty crowd of both contractors and vendors.
The buying show — now going on more than 20 years — serves several purposes: Showing off distribution center operations and technology, networking, and most importantly, putting approximately 1,400 contractors directly in front of vendors.
"The beauty of the buying show is that we've figured out a way to treat our contractors and vendors to a great event where we know that if we can fill the room with contractors, vendors will support us in doing so, and purchase orders will come out of it."
Robinson explains that having two decades of successful buying shows has only added to APR's trustworthy reputation. "Several decades ago I feel that we were focused on selling ourselves to the vendor for business," he says. "But now, it's almost as if we start out on a basis of trust because they know when they choose APR, we're going to deliver."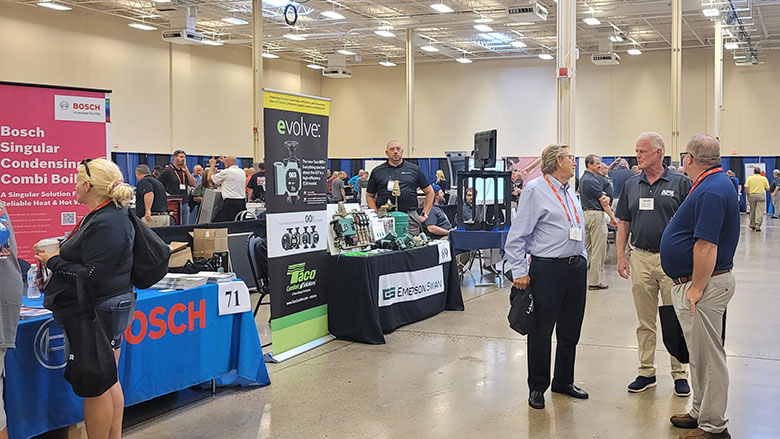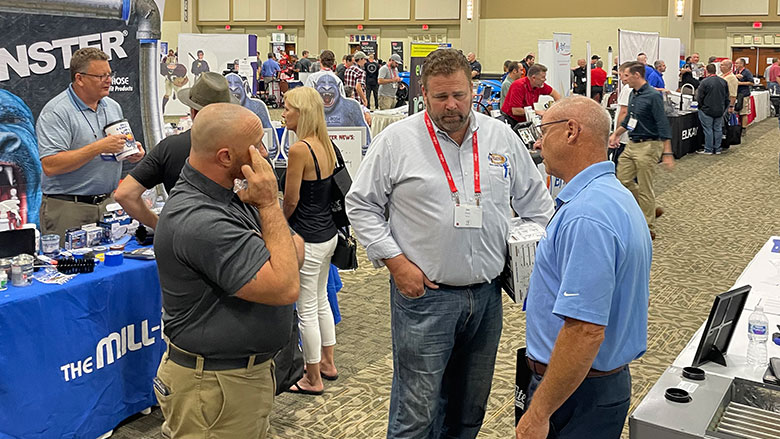 Leadership development
In order to continue on its path of aggressive growth for years to come, APR Supply Co. knows it has to invest in the next generation of leaders. The company has a leadership training program internally and it takes advantage of some of the association programs available such as training and education resources from ASA, HARDI and AD.
"Each position within our organization has a curriculum for training," Robinson notes. "And we think it's really important to support the industry associations with all of the resources they're providing."
Taking investment in leadership development one step further, APR has a group called "Young Leaders," which serves as a place for young talent within the company to grow their careers, take on additional tasks and prep for leadership promotions.
"We'll assign the Young Leaders tasks such as getting rid of deadstock, upselling accessory parts or pulling together a community fundraising event," Weaver says. "They get about six projects per year, and we've found there's no better teacher of leadership than to complete a task alongside peers that are very busy and don't report to you."
When it comes to finding these great people, Robinson says they're always looking for people who are smart, hungry and humble, a Patrick Lencioni favorite from "The Ideal Team Player."
"We have faced the same labor challenges that others in our industry have," Robinson says. "But we never take a day off; even though we are well-staffed right now, we are always looking ahead for new talent."
Ludwig adds that even in times of desperation, the company will not waiver from its hiring and onboarding process. "When you've got someone in front of you and really need to fill a spot, it can be easy to skip over some steps," he says. "But from my experience, you never want to shortcut your process."
Robinson again brings it back to the culture. "Our culture really is the appeal," he says. "I tell candidates that whatever they experience during their interviews is exactly what they're going to get. Our transparency shines through even in the hiring process."
Enthusiastic customers, enthusiastic teammates
Although APR Supply Co. is heavily focused on its future trajectory, the leadership team has plenty to be proud of from the past 100 years.
"Simply put, I'm proud that we're able to provide a reliable place for employment and a career where someone can with confidence provide for their family while enjoying what they do," Robinson says.
Ludwig brings it back to APR's evergreen focus on remaining financially strong. "This has always been our backbone and it's how we provide a solid workplace," he says. "In addition to that, we've always been committed to our superior customer experience. Whenever it's time for us to make an important investment, we triple-check that it will serve our customer."
As for Weaver, he says he's incredibly proud that his team likes coming to work, and that this shows through the company's daily operations.
"We have created high-performing leadership teams — we've been publicly awarded by the Central Penn Business Journal for working together better than most teams," Weaver explains. "I'm proud that for 100 years and counting we have lived up to our mission statement of creating enthusiastic customers and enthusiastic teammates. Our team has one another's backs, we like what we're doing and we enjoy coming to work."