Water heater manufacturer Rinnai America Corp. has been working for the last three years with a state department of corrections to upgrade the water heating systems in five prison facilities.
This initiative, Jason Tuttle, Rinnai America's commercial business manager for the North Central region, notes, had a goal to increase the facility's overall efficiencies.
Rinnai installed tankless water heaters in the prisons and the results were eye-opening. "The systems installed succeeded, increasing efficiencies by more than 30% and saving countless tax dollars," Tuttle says.
In fact, tankless has worked out so well that the department of corrections in that particular state has committed to change out 13 additional facilities next year.
Rinnai Systems Design Engineering Manager Matthew Dettmering, P.E., explains one of the company's larger foodservice corporate accounts needed to maximize space in a new kitchen layout with less square footage. Rinnai recommended a new compact two-unit tankless rack system that takes up 3 feet of vertical wall space.
"Not only could the customer mount tankless water heaters high on the wall above other equipment, but they were able to run the plumbing behind the frame to further save wall space," Dettmering explains.
Staying with the restaurant theme, a Chinese restaurant recently switched from a tank to a Rheem tankless water heater due to its space savings and efficiency. "The customer specifically requested a tankless unit to gain more usable space in the kitchen for food preparation and save energy when not in use," notes Madison Phillips, Rheem's senior manager of global product management.
Phillips adds a school wanted to gain more interior space inside its building and changed to a tankless rack system outside. "This provided access to more storage for the school, while still providing all the hot water for the building's needs," she says.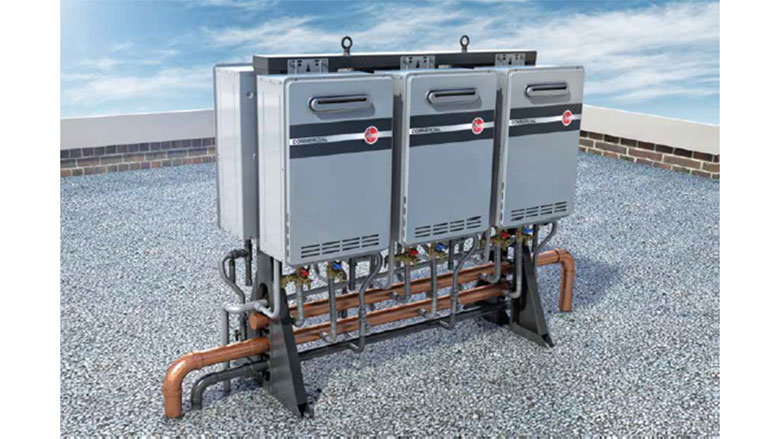 Navien tankless water heaters were specified as the solution to help the University of New Mexico's athletic facility (housed on the site of the football team's stadium in Albuquerque) redo its water heating system that had started to fail. Eighteen condensing tankless units were installed in the facility — and the facility was off to the races in terms of hot water reliability.
Whether it be saving space, energy efficiencies or saving money on utility bills, the use of tankless water heating technology in nonresidential applications continues to gain a strong foothold and shows no signs of slowing down.
"Space available is a premium in new commercial construction," says Brett Butler, brand supervisor for Navien. "When considering tankless water heaters as a domestic hot water source, oftentimes they are discounted as a solution due to lack of wall space. With today's accessory offerings of tankless water heater rack systems both front only and back to back, there are a multitude of possibilities with cascading tankless systems that may be applied."
Rheem's Phillips says the enthusiasm for commercial tankless products has reached a new level recently.
"Not only are commercial business owners seeking the cost-saving, environmental and flexibility benefits of tankless setups, but our commercial plumbing partners are also more confident than ever in the reliability, serviceability and ease of installation of these products," she says.
Rinnai's Tuttle and Dettmering say the simple evolution of a tankless unit in terms of sophistication has allowed for greater market penetration.
"The newer tankless technology can produce higher gpm than the older technology, which reduces the number of tankless units that need to be installed for a business," Tuttle says. "Tankless units can also be connected by cables, working as one system in larger jobs and providing better load tracking vs. boilers or commercial tanks. This allows for a more efficient system that spreads the usage over multiple units, ensuring even distribution of the workload. The emergence of building management systems allows tankless units to plug and play into buildings' existing BMS."
Dettmering notes it is now easier than ever to cascade multiple heaters together so they communicate and modulate together
"Tankless water heaters are now using stainless steel heat exchangers for higher corrosion resistance," he says. "Due to advancements in the gas valve, fan and check valve technology, the tankless water heaters are also easier to vent or common vent with smaller diameter pipe and longer vent runs. There also have been advancements in building management technologies that allow customers to monitor each heater in real-time."
Meeting the needs
Phillips explains businesses with heavy peak water needs and long stretches of inactivity such as stadiums, gyms or even restaurants with limited hours are quickly realizing tankless units are the most efficient way to meet hot water demands.
"The typical scale of commercial, nonresidential or multifamily installations really amplifies the same energy-saving benefits you would see in a residential setting, which is a huge advantage," she says. "Tankless units heat water only as needed, commercial systems drastically reduce energy consumption without the risk of failing to meet demand."
Phillips notes the redundancy factor cannot be overlooked in nonresidential settings.
"Multiple units can be installed to increase the volume of a system, but each is still able to function independently if needed," she explains. "Hotels, multifamily settings and college residences, for example, might need to temporarily shut down a unit for service. A tankless system allows for other units to meet demands while one is out of service, which maintains the facility's ability to deliver hot water to guests, residents or employees.
"The redundancy of commercial tankless systems also provides an opportunity to mitigate wear and accommodate scale. Tankless systems distribute demand and cycle downtime across their connected units, mitigating uneven wear and ensuring each only operates at full capacity when absolutely necessary. Units also can be added to the system as needed, which enables growing businesses to easily scale in response to demand fluctuations."
Tuttle says building owners, stakeholders and facility managers are looking for reliability, product value and a long life cycle when it comes to water heating needs.
"Business owners also want a water heating product that carries a strong warranty because this signals the product is well-built and will last for a long period," he says. "They also want a product that will help reduce and provide low energy bills."
Spacing out
Rinnai's Dettmering goes back to the space-saving aspect when talking about tankless benefits in this market. "In the foodservice industry, space is becoming the most important factor," he says. "The size of food service buildings is trending smaller to save on cost. Therefore, it is important to maximize space and flexibility. In larger applications such as multifamily and hospitality, stakeholders are valuing quality, redundancy and cost savings."
Rheem's Phillips says the relatively small physical footprint of a tankless heater also allows for discrete installation that is in close proximity to the need, such as in a kitchen or a block of hotel rooms, "rather than the more conventional approach of concealing large, tank-type water heaters in a centralized location," she says.
Tony Clouse, industrial business development specialist at Bradley Corp. (which manufactures the Bradley electric tankless water heaters powered by Keltech), says cost also factors into the space-saving equation.
"When it comes to plumbing systems, customers are increasingly finding that space is expansive and using tankless water heaters helps to minimize and optimize space allocation," he explains. "Facilities also are starting to monitor more of their utility uses—more so than previous years, so engineers are realizing that 'if we go tankless we can cut our utility expenses by 'X' amount' and/or achieve green building/sustainability goals for the facility."
Clouse adds another positive when going the tankless route is durability. "Since they use energy only when they are used, there is less wear and tear on tankless units," he says. "Plus, when you heat water over great lengths of time, more minerals are precipitated, diminishing water quality."
Tuttle says another benefit of having tankless units in commercial settings is the repair aspect. "Tankless provides the business owner with the ability to replace parts within the unit," he says. "Every part is replaceable and can be installed within 45 minutes if trained, vs. repairing a whole boiler or tank. This saves the business owner money and time vs. other types of hot water systems. And in warm weather climates, tankless products allow you to eliminate the mechanical room by installing the product outside or even on the roof."
Navien's Butler says there still are some misconceptions in the marketplace about the viability of tankless.
"Tankless products have advanced significantly in the last seven to 10 years by all manufacturers," he says. "Many misconceptions are still believed today on their operational capabilities, which are false and long in the past. For example, there is no such thing as overdrawing a tankless water heater resulting in lukewarm water. All quality tankless today deliver an endless stream of setpoint water temperature."
Butler adds that one setback and handicap that all domestic hot water systems have and continue to suffer from is under-sizing and insufficient BTUs and/or storage.
"This continues to happen and is often the cause of temperature swings, insufficient hot water and premature domestic hot water equipment failures," he says.
But Butler echoes the words of others when it comes to the advantages and benefits of the technology. "In no particular order, highest water heating efficiency of any water heating options, space-savings, consistent and endless temperatures, space saving and best warranties offered, as well as simple to service and maintain," he says.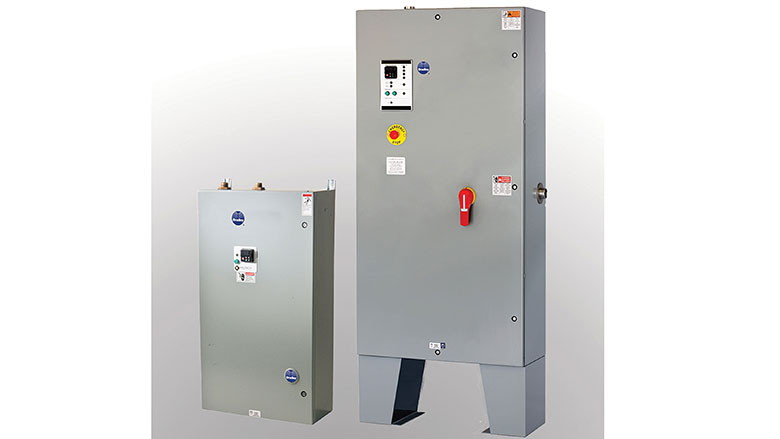 The future of tankless
Navien's Butler says tankless water heating in commercial and retail operations has experienced significant growth in the past three or four years.
"I expect it to only to continue to grow exponentially in the future as owners, specifiers and contractors experience and witness the advantages of a high-efficiency tankless domestic hot water system," he says. "When compared to other options, the costs, ease of installation, venting, operational efficiency, ease of maintenance and service, redundancy abilities and location capabilities, it just makes the most sense."
Rinnai's Tuttle and Dettmering also see a continuing upward trend with tankless in nonresidential applications.
"Tankless technology is going to continue its steady climb to becoming the technology of choice for heating water," Tuttle says. "With the energy and space-saving tankless technology provides, business owners are going to continue to push tankless technology as their hot water solution. As we meet with more plumbing engineers, they are also seeing the value tankless can provide to their customers and specifying on more jobs."
Dettmering points to the increasing trends of stores with smaller footprints and the rise of takeout in food service as two key reasons the use of tankless will increase in the vertical in the short-term.
"In the long term, I see the technology, footprint and performance of tankless improving, which will make it the best option for every commercial vertical," he says.
Bradley's Clouse says the scuttlebutt he is hearing from customers is tankless will continue to gain momentum.
"In the short term, based on what I am hearing in the field, more engineers, architects and specifiers will continue to go tankless to make their operations more efficient," he says. "Some plumbers are saying they need to cut energy consumption by 40-50%, which further makes the case for using tankless water heaters.
"Longer term, over the next five years or so, more and more states and municipalities will want to go tankless in order to save on fossil fuels and reach their savings and sustainability goals."
Phillips says it comes down to the continued earning of trust among building owners, operators and peers when it comes to tankless technology.
"Our industry is sometimes hesitant to adopt new technology when the status quo is sufficient, even if it isn't perfect," she says, "but I am convinced tankless technology will eventually become the default water heating method for many commercial industries."