As part of a project that lasted a year and a half, The Metropolitan Water Reclamation District of Greater Chicago (MWRD) performed structure rehabilitation and pipelining along 175th Street and Ridgeland Avenue in the Chicago suburb of Tinley Park, Illinois. The project's objective was to update the infrastructure and prevent further deterioration of existing pipes and structures. Located primarily within the boundaries of Cook County in Illinois, the MWRD District had to rehabilitate the Calumet Intercepting Sewer 19F, constructed in the 1960s.
The work involved the reconstruction of certain sections of deteriorated sewer pipe. Instead of digging up and replacing the old line, Insituform Technologies — the company awarded the multi-million dollar contract — inserted a cured-in-place lining inside 14,051 feet of 60-inch sewer pipe. This created a new, smooth-surfaced, long-lasting pipe within the old pipe.
The project also included rehabilitating 24 manholes and one junction chamber, according to Project Manager Tom Land of Airy's, a Tinley Park-based subcontractor on the project. The main challenge for Insituform and Airy's? — a bypass system had to be put in place before installing the lining.
"Our role as the subcontractor for Insituform was to plug the sewer lines and bypass the entire 14,000 feet of sewer line," Land explains, "so they could get into the line and safely put the cured-in-place liner in the pipe."
Solution
To stop and redirect wastewater flow into the bypass system, Airy's used large bypass pipe plugs manufactured by Cherne Industries and obtained from local distributor Lee Jensen Sales in nearby Mokena, with whom Airy's has enjoyed a 30-year relationship.
"The long-term relationship between our companies played a big role in our decision to use Cherne plugs for this project," Land says. "From our experience, it's a proven product."  
Airy's used several sizes of Cherne's pneumatic Muni-Ball plugs: 24 to 60-inch Muni-Ball plugs with a bypass, as well as 24 to 48-inch, and 24 to 36-inch plugs. Ideal for the installation and repair of municipal infrastructure, Muni-Ball plugs offer a full bypass, allowing both testing and monitoring of piping systems.
Pneumatic plugs can either be single-sized or multi-sized, which work in multiple pipe diameters.
The smallest multi-sized plug is 3/4 inches to 1 1/4 inches; the smallest single-sized unit is 2 inches;
The largest multi-sized plug can work in pipe diameters ranging from 9 inches to 54 inches; and  
I-Series Muni-Ball Plugs can work in pipe diameters ranging from 4 inches up to 96 inches.
Installers often prefer to use multi-size pneumatic plugs for their flexibility in accommodating a variety of pipe diameters. Deflated prior to insertion in the pipeline, they are inflated once in place.  
Pneumatic plugs also offer the maneuverability to handle many access openings. Their multiple uses encompass blocking a pipe (Test Ball); bypassing effluent that is in a sewer line (Muni Ball); and conducting an Air Acceptance Test on new sewer lines (Air-Loc).
According to Land, Airy's chose to buy the Muni-Ball plugs, instead of renting, because they planned to use them over such long periods. As a result, purchasing yielded a net savings over time. "The quick turnaround for receiving the plugs also played a significant role in the purchase decision," Land says.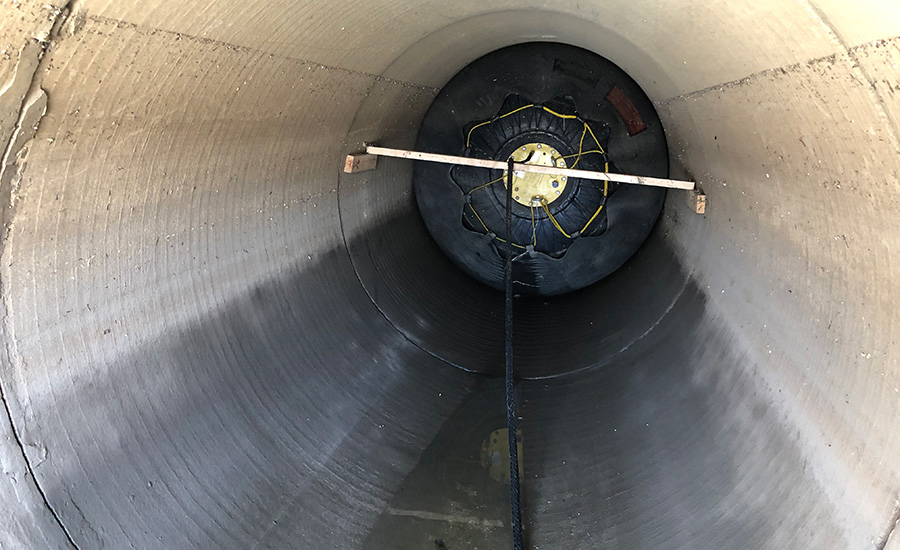 Cherne's underground pneumatic Muni-Ball Plugs are ideal for installation and repair of commercial piping systems.
Results
According to Land, thanks to Cherne's pneumatic pipe plugs, contractors did not have to enter the sewer to plug the pipe.
To ensure optimal safety for its personnel, Land explains that Airy's "double-plugged" the sewer:
"We would have a plug in one manhole, and another emergency plug in another manhole downstream, just in case the head pressure got too high behind the plug."
According to Land, the plug performance was excellent, especially through some extremely high rain events, pushing the plugs to the ultimate limit. "These plugs had extremely large flows through them and were able to meet extremely high head pressures."