Master distributors, specifically those in the industrial PVF sector, are facing challenges and having to continuously adapt to the current landscape. Low oil pricing, supply chain disruption and lack of skilled labor are some of the top concerns among master distributors around the county.
Greg Leidner, CEO of nationwide pipe and tube master distributor Merfish United says geography is playing a large roll in market status. 
"Merfish United services many different segments across the country, and we are observing differences in recovery trajectories, depending on which segment in which geography. At a high level, residential construction activity has been seeing increased volume, but commercial is not as robust," Leidner says.
Rob Raban, president of California-based Industrial Valco notes all eight of the company's locations nationwide are experiencing some positive recovery. "We are starting to see growth in various markets. The Southern California region seems to be recovering quicker than the gulf coast right now. However, nationally we are seeing an uptick in all of our locations throughout the United States."
Sara Alford, general manager at Houston, Texas-based master distributor Newmans Valve, and president of PVF Roundtable, says the market in Texas isn't seeing much recovery yet. "The PVF Market in Texas as of December 2020 had not recovered at all; we are still in the heart of the pandemic," she says. "With the uncertainty surrounding the election and new administration, companies are just not ready to make any large moves forward at this time."

Optimism with oil pricing
One of the driving factors of challenge and uncertainty for master distributors in the industrial PVF market continues to be oil pricing, but there seems to be some hope on the horizon.
"Oil prices are currently in the low $50 per barrel range, and we think this should help the PVF sector recover," Raban explains. "Business activity is lagging relative to the opportunity of oil prices, but we expect business activity to pick up in the months ahead."
Alford also notes that oil prices are slowly recovering. "While the price of oil is recovering, the Gulf Coast area is still in the same status as it was during all of 2020," she says. "Once the pandemic is under control, we will see demand pick up and energy business should improve."

Disruption proves demand 
Many sectors of the PHCP-PVF industry have been reporting supply chain disruption over the past year. Master distributors have experienced this challenge, but say it leads to heavier customer reliance on master distribution as a whole. 
"We have seen supply chain disruption from suppliers in the United States as well as overseas. For products coming across the ocean, the current container shortage is driving freight rates up and creating extended lead times. Furthermore, manufacturers everywhere are experiencing increased absenteeism because of COVID-19 protocols. This, coupled with the recovery in demand, has created supply and demand imbalances which not only result in price escalation, but also caused us to increase our safety stock levels," Leidner says. "Our critical role in the supply chain is to provide as much of a buffer to wholesale distributors so they don't have to be negatively impacted by these manufacturing or freight-related challenges."
"Although this pandemic is new, unplanned disruptions in the PVF industry are not. Master distributers can offer peace of mind by filling the holes in distributors' inventory due to disruption." —Rob Raban, president, Industrial Valco.
While Raban notes experiencing less supply chain disruption than other areas, he agrees that uncertainty has driven wholesaler-distributors to rely on master distributors. 
"For the most part, the supply chain has remained stable. With quick turnaround MRO order being our bread-and-butter, inventory movement is key; we are happy to say that our inventory fill rates are still exceeding 95%," Raban says. "Whenever there is disruption in the market, suppliers have always looked to master distributors to be on the front lines. With uncertainty comes less confidence in suppliers stocking material. Master distribution can, in essence, be their inventory during these times. With our brand promise of SPEEDABILITY — in stock, error free pick up in two hours or less — we help them with any holes they might have."
Newmans Valve reports just mild supply chain disruption as well, and has experienced increased business from small and medium distributors.
"While some distributors have dialed back their inventory purchases, Newmans has continued to bring in material to supply the MRO needs for the plants. While we are overstocked with valves, this puts us in a unique position to supply downstream valves without interruption to our customers as things improve," Alford says. "The small and medium customers who do not carry large inventories have continued to rely on Newmans for supply. Larger distributors have been busy selling down their inventories to get in line with current business and thus have not needed much outside supply."
No matter the severity of supply chain disruption, uncertainty about the market has yet again confirmed the prevailing need for master distribution. 
"Times like 2020 have reinforced the role of master distribution in the supply chain," Leidner says. "Wholesaler-distributors, faced with a great deal of uncertainty caused by the pandemic, leaned even more on master distribution to ensure high fill rates while minimizing their risk and improving their cash flow."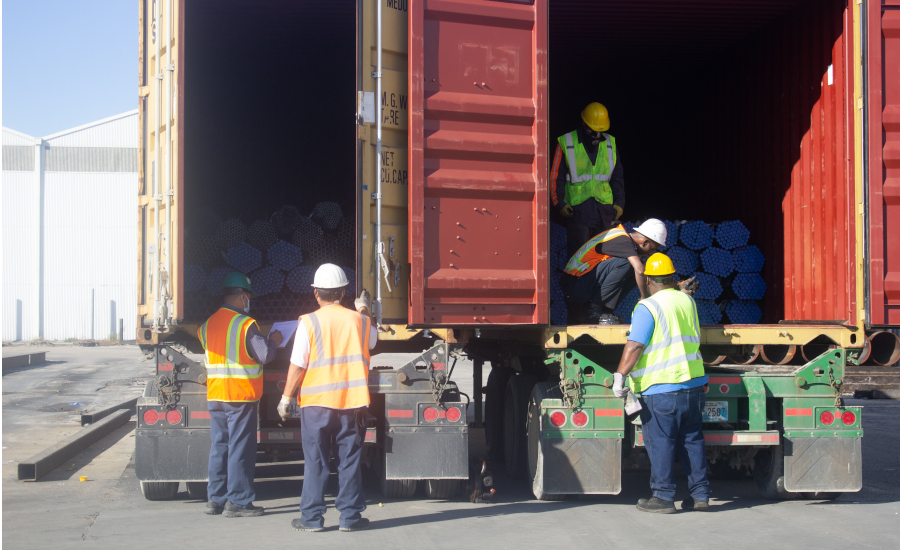 Photo Courtesy of Merfish United.

On the bath and kitchen side
While master distributors focused in the residential and commercial PHCP markets are also facing supply chain disruption, they benefit from the booming residential remodel and construction markets that arose from 2020.
"The residential marketplace continues to be an area of growth through the COVID-19 era. We see strong fundamentals with home demand, phenomenal interest rates and a continued consumer focus on their home," says Christopher Rohling, vice president sales and marketing for Jones Stephens. "The success of this sector has led to challenges keeping inventory well stocked. In March, none of us would have predicted the residential market being as strong as it remains today."
Jordan Jaggers, vice president of business development at The Distribution Point (TDP), says the supply chain is still recovering, but demand has remained steady. 
"We expect to see a mix change and an increase in key categories as more markets open for business at full capacity," he notes. "There are regional pockets that have constraints from regulations and shutdowns. These areas are going to recover at a slower pace. It will be crucial to support these markets by providing supply closer in proximity."
Much like the masters in the PVF sector, these more residential and commercial focused masters say the current landscape points to heavier reliance on master distribution.
"We have seen an increase in the number of wholesaler-distributors turn to Jones Stephens during this time," Rohling says. "With the increase in inventory variability due to both demand swings as well as instability in the supply chain, we have been able to help our customers stabilize inventory needs to sustain customer demand."
Angi Stewart, vice president of sales and marketing at The Distribution Point agrees, "I believe the master distributor is one of the best partners a business can have in a situation like 2020. It does not take a pandemic to create an inventory constraint, but the pandemic has been a large-scale example of what the master distributor already addresses for our customers."
Stewart explains that master distribution is always working in some state of the unknown. 
"We are always working in and around the unknown. We are a major factor in stabilizing markets and meeting the customer demand; we do this when it matters the most," she says. "A same-day shipment as opposed to a five-day lead time can be the difference between our customer's broken promise and a delighted end customer. We like to make sure our customers are in the latter situation."
As the market adapts and changes, master distributors are presented with the challenge of meeting ever-changing demands. 
"Customers are becoming increasingly more sophisticated because there is an inherent demand to keep up with constant technological advances to stay competitive," says Matt McGuire, president, Jones Stephens. "Excellent customer service and timely and accurate fulfillment are no longer enough. Customers want e-commerce solutions that make it easy to do business as well as faster speed of delivery — same-day and next-day shipping."
Of course, customer service is the driving force when keeping up with evolving expectations. "We've doubled down on our customer service through staffing increases, greater options for customer solutions and technological innovation that takes the guesswork out of an already convoluted supply chain," Jaggers explains. "While COVID-19 has presented new challenges, it has not been outside the realm of disruption we've seen in the past. At TDP, we know that friendly service and timely follow-up can make every challenge easier."

Focus and expectations for the future
Despite the challenges and ever-changing landscape, master distributors remain resilient and are making great plans for the future. 
Alford says Newmans Valve expects a slow start to 2021, followed by continued consolidation throughout the PVF sector.
"We expect to see some upward acceleration in the market through Q2 and Q3," she notes. "Newmans' focus is to increase our domestic market while still investigating opportunities for some international partnerships, as well as looking at increasing our product offerings in areas our customers have requested."
Merfish United also has plans to expand product lines in 2021. "Our focus for 2021 is to continue to add products and services that add value for our customers," Leidner says. "We have been doing more jobsite deliveries, for example, which allows the wholesaler-distributor to generate profit and not incur any operational expense in the process. We are excited for the year to unfold, and we thank customers for their continued support during these strange and challenging times."
Raban is optimistic about the future, and says he expects to see 10% growth or more within the PVF sector. 
"This year, we will leverage and embrace technology. Industrial Valco has a proud history of innovation," he says. "We understand that working with new technology and change can be difficult, but we never shy away from the challenge. Because of this, we see even more opportunities to grow with the technology side that is being afforded to us."
Jones Stephens is focused on providing product as quickly as possible, as well as new digital solutions for customers. "We know time is money for our customers, so our goal is to make finding, ordering and delivering products as easy for them as possible," Rohling says.
"Even though we have experienced challenges in the supply chain this past year, we cannot forget how blessed we are as company and as an industry, compared to the many other industries throughout the country who suffered due to no fault of their own," Leidner says. "We are grateful for the opportunity to work and serve in such a great industry."