Merfish Pipe & Supply President and CEO Gerald Merfish recalls hearing the late University of Texas football coach Darrell Royal respond to a question about changing quarterbacks heading into the Cotton Bowl in Dallas, Texas.
"You have to dance with those who brung ya," Royal said.
That response has stuck with Merfish over the years and is one of the industrial PVF master distributor's main tenets.
"That is our attitude here with our employee relationships," he says. "People change over time, but we have to remember the whole body of work. And it's the same thing with our customers and vendors. We have gotten to where we are because we keep dancing with those who brought us to this point."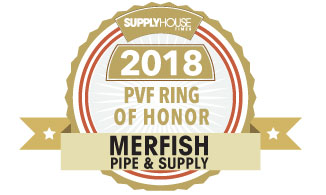 And Merfish and his crew have plans to keep the dance party rolling long past the company's upcoming 100th anniversary in 2020.
Through a number of recent acquisitions and other customer-centric, forward-thinking initiatives, Merfish Pipe & Supply continues to strengthen its long-standing mission statement of striving to be its customers' master distributor of choice for quality products and services Merfish provides.
For its recent efforts, Merfish Pipe & Supply is the newest inductee into the Supply House Times PVF Ring of Honor. The award is given to an industrial PVF manufacturer or master distributor (individual or company) that has enjoyed recent success in the marketplace through the execution of progressive and cutting-edge best practices. Merfish joins previous winners United Pipe & Steel (2017), Apollo Flow Controls (2016), Penn Machine (2015) and Industrial Valco (2014).
Hitting fast forward
Merfish Pipe & Supply traces its roots back to 1920 when Merfish's grandfather, Nathan "Pop" Merfish, a tailor by trade, started a "scratch 'n dent" plumbing supply business that eventually morphed into a full-line wholesale plumbing supply house. And then in 1963 Merfish Pipe & Supply, under the leadership of Abe Merfish, Nathan's son, made the transition to the industrial PVF side by selling the plumbing supply division.
Gerald Merfish and his sister, Rochelle Jacobson, operated the third-generation company until late 2012 when 80% of the company was sold to One Equity Partners and Jacobson retired. Gerald Merfish remains as president/CEO.
Acquisitions started in 2013 when Merfish bought BBL out of Pennsylvania. In June 2016 the master distributor acquired the remaining Kloeckner pipe master-distribution locations in North Carolina, Florida, Houston, Texas, and California. Around the same time, Merfish sold its API line-pipe business and put its full focus on carbon steel standard pipe, fittings and flanges.
"I'm not a big advocate of greenfield expansions," Merfish says. "You have to go in there and hire people from competitors and teach them different systems. It's much more strategic to purchase someone that already has it all in place. Buying the Kloeckner locations rounded us out geographically. It was the perfect addition. Standard pipe has a wide range of applications from sprinklers to fence to chilled-water systems to water wells and the list goes on and on."
The Kloeckner acquisition added locations in Florida (Lakeland), Southern California (Fontana) and Northern California (Stockton). Charlotte, North Carolina inventory was rolled into Lakeland, while the Houston acquisition rolled into Merfish's current-day headquarters on Kress Street off Interstate 10 in Houston.
"The Kloeckner locations had been capital starved," Merfish says. "It wasn't like we could open the doors and serve customers as there was very little inventory."
Merfish VP/GM Robert Setzekorn adds: "One of the biggest challenges was rebuilding the former Kloeckner branches' inventory so we could start chasing and serving customers. We had to make sure we could take care of everybody first and then tell them the soup is ready to be served."
Today, Merfish boasts its 250,000-square-foot headquarters location in Houston, which has five acres under roof. It also recently moved the old BBL Pennsylvania location to Delanco, New Jersey for better port access. The five Merfish locations feature a total of 1 million square feet. Setzekorn notes the acquisitions and move to New Jersey has more than doubled Merfish's footprint the last three years.
Master distributor of choice
Vice President of Sales Stephen Dienes, another recent key addition for the company, notes further improving its customer-service footprint always is top of mind.
One way was the addition of a new sales support team that works with the company's account managers. "They help speed the process along," Dienes says. "It's all about speed of service to our customers. It allows our account managers to get out in the field more and better understand our customers' needs."
Merfish Pipe & Supply also goes to great lengths to ensure its customers have as much information about the products they are purchasing as possible, including quick internet access to mill test reports. "Our customers can access their MTRs through our website," Business Development & Marketing Manager Matt Chestnut says. "As soon as they log on they realize how much time they have saved."
Merfish notes the company is purposely familiar with the overseas mills it sources product from. "I can walk through a pipe mill and understand it as well as anybody else in the industry," he says. "We travel overseas to see these mills. We have never bought from an offshore mill that I have not seen and vetted or that does not have an API license. It's extremely important to vet mills. It's another way we differentiate ourselves."
In addition to enhancements to its EDI system that have proven beneficial for better interactions with larger-scale customers and mill sources, Merfish has increased the number of milk routes (dedicated weekly deliveries) from 12 three years ago to 35 nationwide today.
On the local delivery front, in Houston, the master distributor offers its Merfish Express Load (MEL) program where a customer can pick up a load of 10,000 pounds or less. The material is pulled by the third shift and placed on speed racks. Merfish's goal is to get MEL customers in and out of its Houston pipe yard in 15 minutes or less. Right now it's tracking about 9 minutes per customer, Chestnut notes.
Merfish Pipe & Supply also has an "all on the same truck" mandate where a customer can buy pipe and also any amount of fittings or flanges — from one piece to filling the truck — with no extra freight to be paid, thus saving time and money.
"This allows our customers to order just what they need," Dienes says.
A member of ASA, plus the AD and now IMARK Plumbing buying groups, Merfish Pipe & Supply also will ship directly to its customers' customers' jobsites, while keeping with the company's longstanding unbendable policy of selling only through distribution. "That's integrity," Dienes says. "We take it to the core. We totally believe in the distribution model and know it works."
Gerald Merfish, who personally handles all customer pipe issues that arise, says further expansion is possible, but continuing to over-deliver in the quality and service departments to its customers is a guarantee.
"We will continue to make strategic decisions and purchases as opportunity arises," he says. "We strive to be and consider ourselves, within our core size range, the leading standard pipe master distributor in the U.S. We believe we sell more tons than anybody else. We have thrived over the years because we are committed to our core principles and values. We focus on filling our customers' needs. If we stop doing that they will stop buying from us. Our customers trust us and rely on us. We walk the talk."