Plumbing
Bath & Kitchen News
Bath & Kitchen Trends
Industrial PVF
Latest News
Ferguson donates more than 6,500 toys
Ferguson associates collected more than 6,500 toys for children in need late last year. Ferguson associates set a new company record with their 2014 donations nearly tripling 2013 totals. Over the past four years, Ferguson associates have collected nearly 15,000 toys for programs such as the Marine Corps Toys for Tots.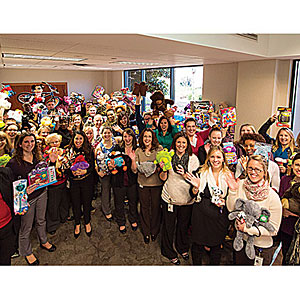 Ferguson associates nearly tripled their toy donation totals this past holiday season. Photo courtesy of Ferguson.
"There is something very special about working for a company that makes helping each other a priority," Ferguson CEO Frank Roach said. "Not only did our headquarter campuses participate in Project Holiday Joy, but we also had more than 400 of our locations assist families or agencies within their local communities."
---
HELPFUL LINKS:

I want to hear from you. Tell me how we can improve.