California Faucets recently won the "Best Customer Service" Award from Decorative Plumbing & Hardware Association (DPHA). The award was presented at the Annual Conference in Florida.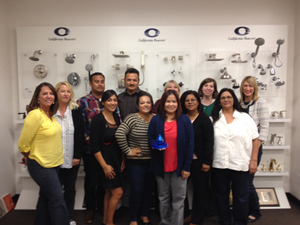 California Faucets' customer service team with the DPHA award.
California Faucets' customer service team handles everything from answering questions and relaying new product information to educating on the product. They're also involved in troubleshooting the myriad of situations that invariably come up from customers around the country.  Everything is handled with a warm, friendly attitude of "Yes" that defines the company's culture.
Pictured here: (L-R) Debbie Cusolito, Cindy Ohls, Edgar Villa, Lourdes Villanueva, Jordan Hubner, Alondra Gonzalez, Stephany Nguyen, Teresa Sternquist, Araceli Barbosa, Shannon Kaminski, Jamie Flores, Tracy Vaughan.
---
HELPFUL LINKS: