On September 3, 2014, LK Pex unveiled its new state-of-the-art production facility in Ulricehamn, Sweden. LK Pex is the sole supplier of PEX-a tubing for MrPEX Systems with the exclusive rights for the US market. MrPEX Systems offers radiant heating/cooling, snow melting, and soon PEX-a Plumbing systems. The company has been selling LK Pex tubing in the US since its inception in 2002.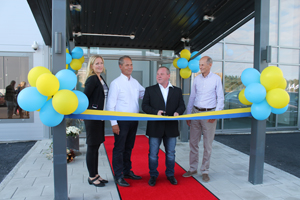 From the left: Sales Director Theresa Gunnergren, Managing Director Mats Larsson, Production Manager Jyrki Hölsö cuts the band since he has been along since the start 1998, representative of the owners of the LK Group Claes Behm. Photo courtesy of MrPEX
The new 110,000-sq.-ft. production facility, only a few miles away from the previous location, is now open with several additional production lines increasing capacity to 263 million feet pipe/year.
Energy-efficient factory
A long-term contract was established with a local district heating company to install a heat recovery system that captures the heat generated by the extruders to help with both heating the building, as well as allowing the waste energy to be sold back to the local community.
It is estimated that LK Pex may be able to supply enough waste energy to heat the whole industrial park where they are located. Additionally, the entire building is equipped with LED-lighting, which reduces the lighting energy usage by 70%.
"A significant step in reducing energy use, cost, as well as saving the environment. In designing this new production facility, we aimed to learn from past success, plus leveraging all available new technology to improve all aspects of the building and production process to the best of our abilities" says Mats Larsson, managing director at LK Pex.
LK Pex also secured the rights to buy the adjacent properties for future expansions.
---
HELPFUL LINKS: