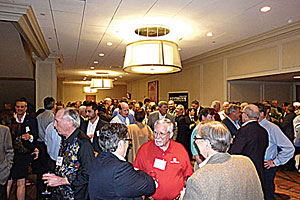 The PVF Roundtable is expecting another large crowd for its May 20th meeting in Houston at the Westin Galleria. Photo by Mike Miazga/Supply House Times
The spring PVF Roundtable takes place Tuesday, May 20 at the Westin Galleria in Houston. The PVF Roundtable is coming off another record-setting event in February, which was headlined by Chicago Tube & Iron President and CEO Dr. Don McNeeley's keynote address.
At the May event, ExxonMobil President of Research and Engineering TJ Wojnar will be the keynote speaker. Another record crowd is expected.
A day earlier, the PVF Roundtable will hold its sixth annual Don Caffee Memorial Golf Tournament at Sweetwater Country Club in Sugar Land, Texas. Lunch and a silent auction follow the golf tournament. The event benefits the PVF Roundtable's industrial scholarship fund.
On Wednesday, May 21, the American Supply Association's Industrial Piping Division takes center stage at the Westin Galleria as it hosts its IPD Open House from 8 a.m. to 11:30 a.m.
In addition to a networking breakfast, a legislative and regulatory update will be provided. Presentations on industrial markets and key business and economic trends affecting wholesale-distribution through 2015 also are part of the event.
For more on the PVF Roundtable, visit www.pvf.org. For more on the IPD Open House, visit www.asa.net.
Related articles: WinterPVF Roundtable
---
HELPFUL LINKS: