If there was a Mount Rushmore of PHCP-HVAC writers/editors, Bob Mader would have to be front and center on it.
That is the universal sentiment of friends, colleagues, competitors and industry executives alike in remembering the well-liked and respected Mader, who died unexpectedly in his home Feb. 22 at the age of 65.
"I called Bob the dean of HVAC journalism," said John Vastyan, president of longtime industry public relations/marketing firm Common Ground, Uncommon Communications. "He was a fine guy, funny and smart, and could turn or tune a story with uncommon skill."
"The industry lost a great friend and stalwart supporter," said Sally Boyer, longtime marketing communications manager at Elkhart, Indiana-based manufacturer NIBCO. "His keen insight and extensive knowledge made him a subject-matter expert in residential and commercial construction, as well as service contracting. He was well-respected for his knowledge, talent and his unwavering commitment to journalistic ethics."
Mader's industry career spanned nearly 40 years. A long-time fixture with Contractor magazine where he rose to the position of senior director of content for Penton Media Mechanical Groups, Mader recently was hired as chief editor of Plumbing Engineer magazine.
"Bob's impact on our industry was beyond measure," said Dave Yates, former owner of well-known PHVAC contracting firm F.W. Behler and longtime industry columnist. Yates currently writes columns for BNP Media Plumbing Group publications Plumbing & Mechanical, Supply House Times and PM Engineer (pme).
"In many ways, he had the outlook of a child on Christmas morning unwrapping presents," Yates continued. "The immeasurable joy he took and wonderment as he would interview folks was an impressive experience for me to witness and a privilege to observe. I nicknamed him the Energizer Bunny because he seemingly never tired of working the tradeshow aisles in search of things his contractor audience could benefit from. His pursuit of knowledge to pass along to the trades men and women was a quest he never tired of chasing."
Any media attendee of the annual AHR Expo show knows one of the first major spectacles out of the gates is the Taco Comfort Solutions breakfast, which Mader always would be front and center at.
"Bob had, as do I, a very deep hope and caring for the industry and its people, something that goes way beyond the bounds of work," said Taco Comfort Solutions Executive Chairman and Owner John Hazen White Jr. "Bob's concern for and interest in so many facets of the HVAC, plumbing and hydronics industry was genuine. Either long before a tradeshow opened or long after the crowds had left our booth, Bob was there asking the sort of questions that few people would even consider to ask — questions about the welfare of people and the future of our industry. Bob was a naturally quite guy, but when he spoke, the question was always spot-on, or poignant or both. And when a person answered him, you could always count on an undistracted, engaged and patient reception. Bob was a good friend to me, to Taco and to the entire industry for many decades."
Vastyan said Mader showing up at a tradeshow or manufacturer media day meant something. "Just Bob's presence at an editorial event or outing gave it weight and sway," he said. "Bob was entirely genuine, never with anything less than his candid opinion and honesty on tap. He was always accessible, perhaps even to a fault. It's because he truly cared about his work and the many people who entered his sphere."
Bob reviews Solar entries with Dan Foley and Wayne Krump

Well-respected colleague and competitor

Mader's current and former colleagues and competitors mention one commonality with the University of Notre Dame graduate — on the surface he seemed like a man of few words, but once you got to know him, he was anything but, both professionally and personally.
"As you know, Bob really was a man of few words, but had a heart of gold," said John Mesenbrink, co-owner of Mechanical Hub Media and another well-respected veteran industry editor/writer. "He was the best at what he did. Bob was a gentle giant — gentle in how he treated people with grace, dignity and fairness. Giant not in size, but in journalistic stature through the weight of his pen. For nearly five decades, Bob was the consummate professional as he championed for the PHVAC industry, and he went about his business the right way."
"Bob Mader was a man of many words — written words that is," said Candace Roulo, a former editor at Contractor magazine, who worked alongside Mader at the publication for numerous years. "I wonder how many articles he wrote throughout his career. He was a final journalist who knew how to write a balanced news article, showing perspectives from both sides of a topic, basing it on facts. He definitely enjoyed writing his editor's note every month for Contractor. That is where he could add his opinion to all the news we covered. He was a very witty writer who always had something eye opening to say on the latest events, products, standards, regulations or trends in the industry. You could tell there was a lot of thought and logic put into these opinion pieces, plus a splash of his personality."
Dan Ashenden, current group publisher of BNP Media's Plumbing Group, started at Contractor in the mid-1980s, just about the time Mader was hired as an associate editor at the magazine. "From that point on, I got to work beside Bob and listen to his knowledge about the industry, which made me a valuable consultative sales partner to our clients. Bob was the consummate editor in our industry covering the PHC market.
"For people who did not know Bob well, he might seem very calm and not talkative. However, he had a keen German mind and did not speak unless he had something smart, profound or extremely witty to say. On more than a few occasions, I would witness him challenge and stump product managers or even engineers at well-known companies, yet he would do it in a respectful, non-confrontational way that earned him deep respect in the industry. We had a lot of fun and success together over many years. I am deeply grateful for the 36 years of fun, friendship and rewarding work with Bob. I will miss you very much my dear friend and cohort."
Current Contractor Editor-in-Chief Steve Spaulding worked with Mader at the publication for more than 20 years. "I never failed to be impressed by Bob's intelligence, insight and good humor," said Spaulding, who noted writing his March issue editor's note on Mader proved difficult. "He set very high standards for his work, but then got out of the way and let everyone on the team get the work done as they thought best. He was quick to embrace and promote the latest in high-efficiency technology — heat pumps, solar, water-saving fixtures — and very early on saw the promise and potential of IoT, prefabrication, the Digital Twin and so much more. The plumbing and heating industry has lost an important advocate. The publishing industry lost a visionary writer/editor, and those who got the chance to know and work with him have lost a kind, funny and compassionate friend — and all of it far too soon."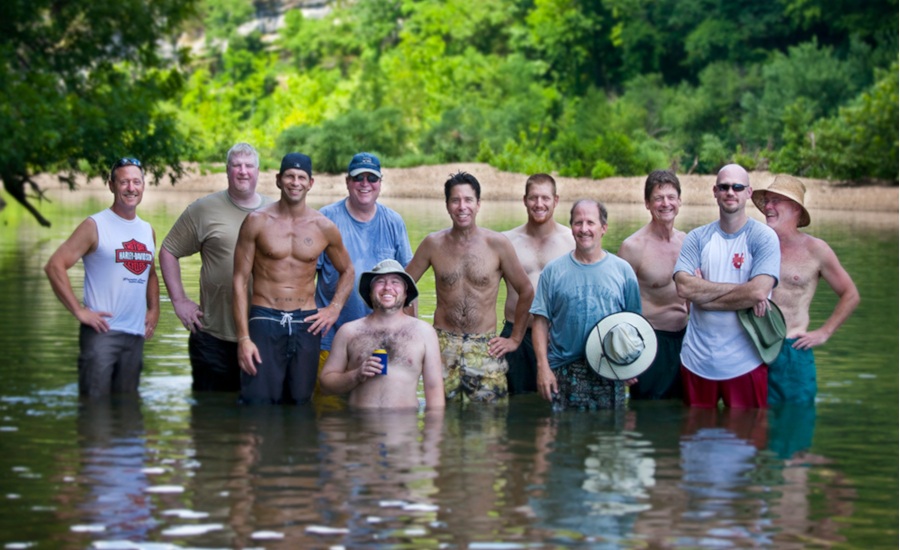 Bob with the Watts River Rats 
Dan Vastyan, who works with his father as PR director at Common Ground and also is the co-owner of communications firm Delta C, also noticed Mader's keen eye for emerging technologies. "I recall a conversation with him at a Cranston, Rhode Island 'River Fire' hosted by Johnny White about emerging technologies, mentioning things I had never heard of before and saying, 'Now that's something to keep an eye on, it's going to get big.' And he was, of course, very right," he said. "As an editor, he always had a way of challenging me as a writer to put together a better article. He wasn't afraid to send something back, and the product was always better for it. The industry has definitely lost a great friend and an asset to the skilled trades."
Retired BNP Media Plumbing Group Publisher Bob Miodonski, who also worked with Mader for many years at Contractor (at the time owned by the former Penton Media), remembered Mader for his expertise on technology.

"Bob knew much more than I ever did about how systems and stuff work," said Miodonski, who held numerous management roles at Penton and also was chief editor of BNP Media-owned Plumbing & Mechanical. "His curiosity was greater than mine in this area, and he knew what questions to ask industry experts to increase his knowledge. Bob's original field of expertise was HVAC, but he made himself quite fluent in plumbing and hydronic systems as well. I sometimes thought that if Bob had not chosen journalism, he would have made an excellent teacher. In presentations in front of groups, he was informative, organized and relaxed. He liked to share his knowledge with less experienced editors, other industry professionals, and — most of all — our readers."

Former BNP Media Plumbing Group sales executive Bill Boyadjis, who recently returned to Contractor as associate publisher, added: "I worked with Bob for more than 15 years on Contractor, and first and foremost, he was a gentleman. His career covering these markets dates back to the early 1980s. He's an industry icon. What set him apart was his editorial integrity and always putting his readers first. I will miss seeing Bob at industry events and I will especially miss his dry sense of humor. He will be missed by all who knew him."
Veteran industry writer and editor Steve Smith, the current chief editor of PHC News magazine and the senior director of content development for the publication's parent company (where Mader had recently started working on sister publication Plumbing Engineer), called Mader the "great seer of the PHCP B2B world."

"You know what I mean: All-seeing, all-knowing, all-around and always there," Smith said. "I can't imagine there were many tradeshows he missed over the past four decades, short of last year with COVID. Certainly, showing up in person, knowing a ton of people by their first names and reporting on events firsthand is the key to what makes a good journalist. But a great journalist like Bob can distill what he's learned along the way, often balance contradictory outlooks, blend it all up and pour it out into exactly the right context for readers."

Tim Ward, digital editor and business development at Mechanical Hub Media, said interactions with Mader throughout his nearly 20 years of knowing him in the industry always was a highlight. "The uniqueness for me was that in all those years, whether I was pitching him a story and then hounding about when it would run, hosting him at an industry event, asking for his media insight, sharing a laugh or even tipping back a beverage, Bob was always extremely kind and supportive," he said.

John O'Reilly, principal of suburban Chicago-based GreenHouse Digital + PR marketing and public relations firm, crossed paths with Mader when O'Reilly was editor of Supply House Times when that publication and Contractor were owned by Cahners Publishing.

"I was always impressed with Bob and his commitment to his craft and to the integrity of the profession," O'Reilly said. "He was a genuine journalist in what used to be called the trade paper field. His dedication to his audience manifested itself in the way he applied his knowledge. He was a student of the industry and also devoted himself to the plumbing and HVAC industries. He knew his audience and that is what made him an effective editor."

In later years, it was O'Reilly sitting on the other side of the desk from Mader. "Bob could be very demanding in what he wanted in the way of content," he said. "He was always on guard and weary of something being overly promotional. I understood that. Bob wanted to put out information to his readers that would help them and benefit them. Bob knew it couldn't have practical worth unless it was believable. He was always on guard against the hype. He wanted information that could genuinely help his readers. I have a tremendous amount of respect and admiration for the dedication and intelligence he brought to every one of his jobs. Bob had great credibility in this business and he earned that over the decades."
Mader visiting MLK in DC
An advocate for the industry

Bradford White Senior Director of Marketing Communications Carl Pinto Jr. credits Mader for helping him ease into the industry almost a decade ago.
"Bob welcomed me with open arms to the industry in 2012, and we maintained a fantastic relationship from that point on," he said. "His counsel in helping me to navigate our industry's media maze was invaluable. Bob interviewed me just a few weeks ago and like every one of our interactions, it was just another comfortable chat between old friends. It is difficult for me to imagine an industry event without seeing Bob's familiar smile and hearing his hearty laugh. As far as I am concerned, Bob has been the gold standard for plumbing and HVAC media and editorial excellence."
"Bob Mader was a friend to all and a trusted and respected industry voice," Viega Senior Director of Marketing Mark Brodie said. "He always led with a smile, and was always interested in me as a person first and a customer/story second. In this time of social distancing and reduced in-person contact, the written word has become even more important, and the loss of Bob Mader will leave a void in our industry that will take some time to fill."
Over the last few years, Mader helped Plumbing, Heating, Cooling, Contractors — National Association with a variety of important projects.
"The entire PHCC family is devastated to hear of Bob's recent passing," PHCC — National Association Executive Vice President Michael Copp said. "Bob was a well-respected veteran editor within the PHC industry. He will be greatly missed by all who had the privilege of working with him."
PHCC — National Association Vice President of Marketing and Communications Charlotte Parham added: "Bob was the consummate journalist who demonstrated a strong commitment to ensuring accuracy, relevancy and quality in all of his work.  After having worked with Bob over the past 20 years, I was so fortunate to have gotten to work with him even more closely over the past three years. During that time, I was exposed to exactly how much Bob knew about the industry, and it sure was a lot. The 'insider' knowledge he provided, in addition to his critical thinking skills and compelling conversational writing style, helped the organization produce two very significant publications. Given his reputation in the industry, we are proud to claim that he was involved with the production of these noteworthy publications that are important to both the preservation of the association's past and planning of its future."
Mader was one of the media moderators at IAPMO's Emerging Water Technology Symposium. That's where IAPMO Executive Vice President of Advocacy and Research Pete DeMarco first got to know him.
"Bob was the very definition of an industry professional," he said. "I always made sure Bob was assigned a challenging panel discussion to moderate that dealt with controversial industry issues because I knew he would keep the discussions interesting and productive. He simply had great instincts and knew how to drill down to the heart of the topic, and at the same time, made sure all panelists were given ample time to make their points. He was a gentleman and a mentor to so many in our industry. We will miss him dearly."
Barb Higgens, retired CEO of Plumbing Manufacturers International, called Mader a true professional, and a tireless advocate and ambassador for the industry.
"There aren't many folks around the plumbing industry these days who remember the challenges faced by PMI a couple decades ago," she said. "Contrary to the organization's visibility, influence, effectiveness and collaborative relationships of today, in the mid-1990s, PMI was at a crossroad: Disband or reorganize. I am forever grateful to Bob Mader and the industry press for the ongoing support and coverage of PMI's initiatives, conferences, panel discussions, educational forums and special events from the start of its rebirth. Bob, in particular, was always there with a cheerful smile, a snappy wisecrack and insightful words of encouragement. His news coverage was timely, accurate and much appreciated. The industry has lost a true champion and a valued friend."
Uponor North America Director — Brand and Sustainability Ingrid Mattson would meet up with Mader at industry tradeshows, and, of course, during the company's signature late fall media tour to the industry's three main B2B publishing companies — all oddly located in Chicago and its north-shore suburbs.
"Bob always had smart questions and was truly interested in what you had to share, which was reflected in his writings," she said. "On those media tours, we had a yearly lunch to catch up on everything having to do with Uponor, the industry, current events, music and even hip replacements. I treasure the memories from those times together. I am so grateful for the time I was able to spend with Bob. He was such a smart, interesting, sweet and gentle soul with a smile that reflected all those qualities."
Mader also was a consistent presence at many Watts Water Technologies media events over the years.
"Bob Mader always was smiling, always was a gentleman and always was a professional," said Judi D'Amico, who recently left Watts to join LiquiTech. "Bob always took the time to listen and gain a thorough knowledge of our products and services, and then shared how we were making a difference to the industry. He was always ready to provide his knowledge, his insights and advice on how we can be better and make a better impact to the industry. He was a friend to us all. He will be sorely missed."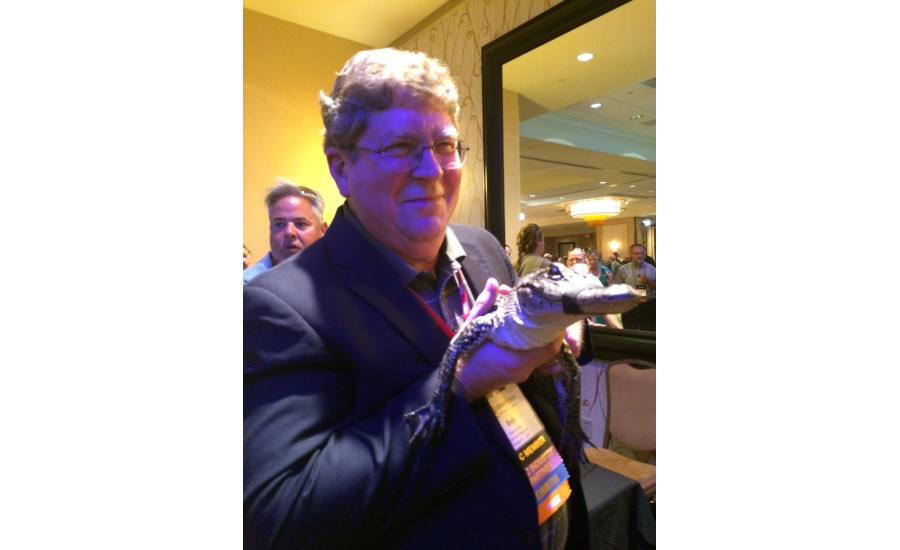 Mader and the Gator 
Beyond the industry
 
Roger Halligan, CEO of marketing public relations firm H+A International, said first impressions of Mader were deceiving.
"Bob was a very professional journalist, seemed rather serious in demeanor and had a no-nonsense style," he said. "He could seem rather gruff at times. However, as I got to know him better, I realized he was a warm and caring person with a wonderful, dry sense of humor. He became a friend."
A meeting with Mader and his wife, Kevyn, at an Armstrong Fluid Technology event in Toronto several years ago, stuck with Halligan. "I believe Bob had never been to Toronto and he brought his lovely wife to enjoy the city while he attended meetings during the day," he said. "At the opening night reception, I had a wonderful conversation with Bob and his wife. It became obvious what a caring husband he was and what a great relationship they appeared to have. It was interesting to see that side of Bob that I hadn't witnessed before."
Smith noted he lived nearby Mader in the mid-1990s. "One weekend afternoon Bob and his kids joined my family in the backyard," Smith recalled. "Nothing really much more dramatic than that, but it's one of those ordinary moments that just sticks in my mind. While we are all obviously remembering Bob for his journalistic accomplishments, we also shouldn't lose track of the fact that while he was getting all that done, he was also at this point in his life raising three kids."
Miodonski recalled a party his wife threw for him many years ago where Mader was one of the attendees. "Of all the work colleagues and friends she had invited, she later told me only Bob came to the kitchen and offered to help her," he said. "When she was at her busiest and everyone else was enjoying the party, Bob kept her company. The last time I saw or spoke with Bob was probably at the AHR Expo right after I retired from BNP. It might sound silly for me to say now — three years later — that I will miss Bob. So I won't. But I will say the plumbing and HVAC industry will miss Bob Mader."
Roulo added: "Bob knew and understood that family is priority. Speaking of family being a priority, I am sure Bob is looking down at his family, colleagues and friends right now with a smile on his face, knowing that everyone has their own special memories of him and enjoying each memory each person is recalling. No doubt, he is giving everyone a big hug."
Yates offered this prediction.
"Saint Peter had best be prepared to be interviewed, and, for that matter, God, too," he said. "Rest in peace old friend."
Bob walking away from another successful day
Author's note: There is a small, elite fraternity of writers/editors who were/are mainstays in our industry — the folks who are at every tradeshow, manufacturer media day, association event, oftentimes at the expense of wearing down the treads on the family and physical/mental health tires. It takes a special type of cat to be a current-day multi-media B2B trades journalist and to do it at an all-star/world-class level day after day, month after month and year after year — churning out consistent high-quality content of considerable value to your audience. Bob Mader was the crème de la crème when it comes to our industry, and our industry is light years better for having him in it. A quintessential great guy.