According to the National Kitchen and Bath Association (NKBA) Living Impacts Design Report for 2020, there are four overarching themes emerging throughout the bath and kitchen industry: Healthy living, simplified living, connected living and living in place.
No surprises here, as staying connected and health and sanitation are top priorities for most people this year, largely due to the pandemic. Simplified living reflects the continuously busy homeowners and businesses that society is made up of; convenience and ease are more important than ever.
Easy cleaning is hugely desired in both the bathroom and the kitchen. 69% of NKBA survey respondents say that an under mount sink is preferred in order to make cleaning easier, while 59% want self-cleaning toilets. In the kitchen, 62% say that a giant sink for easy washing and cleaning is extremely effective.
The report also shows that environmental impact is playing a role in kitchen and bath design choices. Over 70% of respondents desire both low-flow faucets and toilets to save water. 

WELLNESS AND CLEANLINESS ARE TRENDING
Kris Alderson, senior marketing manager with Bradley Corp. says that wellness has been a growing movement for the past five years, but COVID-19 has amplified the relevance. Hands-free products are becoming increasingly popular to reduce surfaces that need to be touched and prevent cross contamination. 
"As Americans adjust to public life in the age of COVID-19, the vast majority are looking for a completely no-touch experience. Bradley's Healthy Hand Washing Survey, most recently conducted in April, found that 91% of Americans believe it's extremely or somewhat important that public restrooms are equipped with touchless fixtures," Alderson explains.
Increased hand washing time and frequency is also affecting plumbing product design moving forward. "The hand washing survey also shows that the COVID-19 outbreak has had a dramatic effect on Americans' hand washing behavior. Therefore, designing products that support frequent healthy hand washing – and cleaning and disinfection – is of utmost importance," Alderson notes.
Wellness also encompasses things like stress management and self-care amenities. Chris Oatey, general manager of QuickDrain, explains that homeowners are striving to regenerate comfort in their homes. "There is an increasing demand for amenities like steam showers, extra-deep soaking tubs, water filtration and voice-activated smart features, which all promote relaxation. The role of wellness will increasingly shape product trends within the bathroom in coming years," he says.
On the commercial side, products like washbasins are being engineered with self-cleaning technology. "To improve cleanliness and hygiene in facilities, washbasins have mechanisms to stop germs and bacterial growth in the fixture between uses. Bradley's WashBar is programmed to purge water every 24 hours for five seconds, if the unit hasn't been activated within that time, so that stagnant water is drained from the piping system and flushed with water to minimize the risk of bacterial growth," Alderson notes. 
Oatey also says that QuickDrain is developing commercial products to reflect the need to be clean. "Manufacturing products from materials that are antimicrobial and/or self-cleaning is an important part of new-product development in the kitchen and bath space. Ease of maintenance within showers for hotels and hospitals is crucial to enhancing the longevity of any project."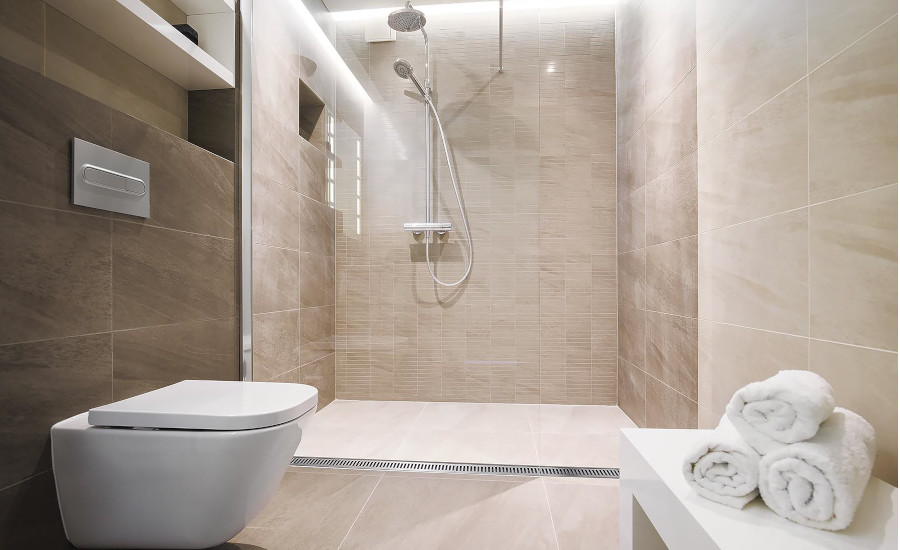 QuickDrain's curbless shower. Photo courtesy of QuickDrain.
ACCOMMODATING ALL AGES AND SIZES
In public bathrooms specifically, it is becoming increasingly important to use fixtures that support people of all capabilities. "All types of public facilities, including healthcare facilities, must be equipped to accommodate and stabilize segments of the population – no matter their size – who may need extra support and balance. This includes the growing elderly population, and those who are disabled and/or those in rehabilitation facilities," Alderson explains. 
Sturdy grab bars and shower seats are popular product trends to ensure public restrooms are user friendly for all. 
Also in the bathroom, curb-less showers are a way for the aging population to stay independent and safe in the shower. "Curb-less showers provide a universal design that appeals to the rapidly growing, aging-in-place population. The traditional curbed shower will always be a staple in upgrading from a bathtub, but homeowners are also seeing and requesting more stylish and comfortable options with curb-less shower systems," Oatey explains.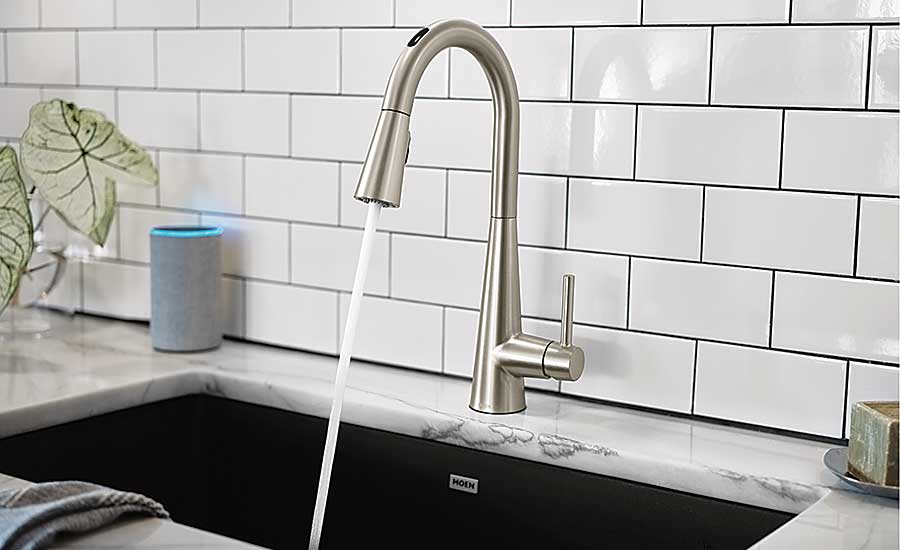 The U by Moen voice command kitchen faucet. Photo courtesy of Moen.
EFFICIENCY AND CONSERVATION
Within the commercial market, healthcare and hospitality specifically, the significance of water efficiency is continuing to grow. "There is a focus on sustainable solutions, such as efficient faucets, water-saving shower heads, LED lighting and the use of recycled materials to reduce our footprint in the building process," Oatey notes. 
Sustainability in the restroom looks like using different materials for product developments and increased use of hand-dryers. "Sustainability is factored into restrooms in terms of maintainability, durability, initial costs and total lifecycle costs. Product materials like natural quartz, solid surface, recycled materials, stainless steel, etc. all help customers can achieve sustainability goals. 
"Customers are also looking for sustainable use-based product selections, so we are seeing more demand for hand dryers instead of paper towel dispensers. Not only are hand dryers more eco-friendly compared with paper towels, they also incorporate energy-saving technology," Alderson explains. 
OVERALL KITCHEN AND BATH DEMANDS
When asked about responding to customer pain points and wants, manufacturers all agree that increases cleanliness, water efficiency, hands-free products and ease of cleaning are capital investments among both the residential and commercial sectors.
Oatey notes that due to technology and social platforms, design improvements in kitchens and bathrooms will continue to have a high bar to reach.
"Consumers have an interest in taking their kitchen and bathroom designs to the next level. More consumer research is taking place on social media platforms, such as Pinterest and Instagram, to gather inspiration for creating the ultimate bathroom oasis. The adoption of more finish options and creatively captured inspiration will continue to develop throughout the rest of the year."