Tile Redi, leading manufacturer and marketer of leak-proof, tile-able one-piece shower pans and related products, announced that its new Center Trench was awarded "Best of Bath Products" at the 2015 International Builders Show (IBS).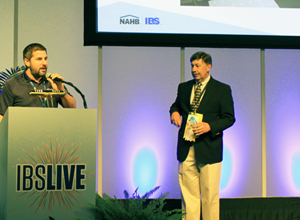 Executive VP/Partner of Tile Redi Farrell Gerber accepts "Best of Bath"Award at IBS 2015.
Center Trench is a centrally located, linear drain integrated right into the shower pan. Ideal for new construction or renovations when the existing drain is positioned in a centralized location, Center Trench drains are an integrated component of Redi Trench single-curb or multi-less shower pans. They may be selected with designer metal finish or with a tile-able drain top.
The National Association of Home Builders named the winning products in its third annual Best of IBS Awards held during the 2015 International Builders' Show in Las Vegas. Decided by a panel of independent judges made up of attending reporters and building professionals, the awards were given in eight categories, plus an overall Best in Show award. 
Executive Vice President/Partner of Tile Redi Farrell Gerber accepted the award on behalf of his firm. "Our award-winning Redi Trench — the industry's first one-piece, Ready-to-Tile shower pan with an integrated linear trench drain, offers the choice of a tile-able drain top or designer linear grate top to complement any bathroom design," he said.
 "And now with Center Trench, because in many cases existing plumbing has water exit drainpipes in the very center, there is no need for plumbers reconfiguring pipes to accommodate installation. And, it even allows for large format slabs to be positioned on either side of the drain," said Gerber.