Terry Resinck
, of estate-planning firm Resnick Associates, provided two eye-opening statistics to
Embassy members at the buying group's recent 23rd annual Shareholders Meeting at the Broadmoor in Colorado Springs, Colo.
According to Resnick, the No. 1 cause of business failure is inefficient succession and estate planning. He also noted two of three family businesses will not make it from the founder to the second generation.
Resnick's hour-long presentation covered a wide-range of topics related to proper succession and estate planning, including tax issues, dealing with family members as they relate to the business and even how life insurance policies can factor into the process. "Life insurance is the second-largest asset for most business owners," he said.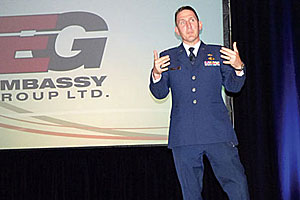 Air Force Academy Lt. Col. Donald W. Rhymer talks about the leadership lessons he's learned at the 23rd annual Embassy Shareholders Meeting at the Broadmoor in Colorado Springs, Colo. Photo by Mike Miazga/Supply House Times
Resnick's advice to companies is to be as prepared as possible and don't hesitate to consult with qualified professionals on the subject. "It doesn't take that long to put a plan in place," he said. "It may take 10-15 hours to establish a plan. That's not a lot of time for something this important. Make sure your planning is updated and do not be complacent when it comes to preparing a plan. Make sure you work with specialists."
Embassy members also heard from Lt. Col. Donald W. Rhymer, an assistant professor of mechanical engineering in the Air Force Academy Department of Engineering Mechanics. Rhymer shared how his experiences working with other highly decorated and respected colleagues at the Academy have helped mold him as a leader. Rhymer shared interactions he had with five different individuals and the takeaway he gained from each in terms of leadership and bolstering morale.
• Do the right thing. Folks are watching. (via Col. John Kubinec);
• Defend your people. (via Maj. Gen. John Thompson);
• Don't practice digital leadership from your computer. Get out and see folks. (via Lt. Gen. (Ret.) Ted Bowlds);
• Get out and talk to your people not because you want something. (via Dr. Dave Westmoreland); and
• Be thankful…and be there to help (via Dr. John Wood and his wife, Resia).
Rhymer's story with Wood and his wife was especially moving given they died in a recent private plane crash. Rhymer noted their deaths sent shockwaves through the Academy.
Rhymer ended his presentation by encouraging attendees to let the passion they have for their businesses show.
"Hopefully you enjoy what you do and that will translate and mean something," he said. "Remember to defend your people, talk to them and really get to know them. Go out there and make a difference."
Embassy honored Emily Longley (Wilmington, N.C.-based Longley Supply Co.) and Bryan Schiff (Denver-based Wholesale Specialties) for their service on the board of directors. The buying group also welcomed new members Meyerowitz Supply (Farmingdale, N.Y.), Palace Plumbing and Heating Supply (Bronx, N.Y.), W.A. Birdsall & Co. (Linden, N.J.) and Winston Water Cooler (Dallas). Shareholders also enjoyed a group dinner at the scenic Cheyenne Mountain Resort sponsored by Maax and Zurn.
---
HELPFUL LINKS: