John M. Frey, former owner and CEO of John M. Frey Co. (JMF Co.), passed away March 25, 2014 at Serenity Hospice Home in Oregon, Ill. at the age of 93.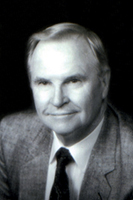 Frey died on March 25, 2014. 
Frey founded and operated John M. Frey Co., established in 1948, where he spent nearly 50 years building and creating the national brand of JMF Co.  His philosophies, efforts, and strategies of customer-driven focus remain the foundation and legacy of the company today.
Current Chairman and CEO Max Hansen, after the acquisition in 1993 from Frey, requested that he retain the title Chairman of JMF until his complete retirement seven years later. "I learned a lot from John during this transition. I enjoyed and took pride in the respect and admiration industry leaders expressed of him. It is impossible for me to fully express my feelings for John. He was my mentor. He was my friend," said Hansen.
Frey is survived by one daughter, Patricia (Jerry) Bellini; two sons, John C. (Becky) Frey and Robert A. (Cynthia) Frey; three sisters; six grandchildren; and many great grandchildren. He is preceded in death by his wife Harriette.
Funeral services were held Saturday, March 29, at 11 A.M. at Schilling Funeral Home in Sterling, Ill. A memorial has been established to The Big Red Church, First Congregational in Sterling. Condolences may be sent to schillingfuneralhome.com.
---
HELPFUL LINKS: