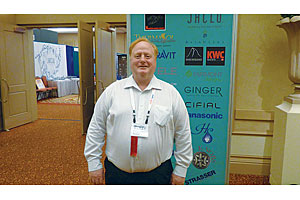 Forte President Doug Hermance (Westheimer Plumbing & Hardware)
Supply House Times recently interviewed Forte President Doug Hermance at the decorative plumbing and hardware buying group's 2014 conference at Trump National Doral outside Miami. Hermance is the president of Houston-based Westheimer Plumbing & Hardware, which features two showroom locations (Houston and The Woodlands) and a warehouse operations center. Hermance talked to Supply House Times about a number of topics, including trends in the decorative plumbing and hardware industry and the short-term outlook for Forte. To view a video of this interview (plus other videos from the Forte conference), visit the video section at www.supplyht.com/video.

Supply House Times: How was business for Forte shareholders in 2013 and how is 2014 shaping up?
Doug Hermance: 2013 was a great year for us. Our business was up more than 20% in the group. We are really feeling a comeback in the housing business. The consumers are more optimistic and willing to spend money on their homes. I think 2014 also is going to be a very good year. The housing market continues to come back to more of a norm. I'm kind of lucky. I'm in the Houston market and things are red-hot right now. We're starting to see the builder and spec market come back now after lacking the last four or five years.

Supply House Times: What trends are you seeing in the decorative plumbing and hardware market?
DH: We're seeing a little bit of everything. People are getting more of an individual sense of what they are looking for. You don't have consumers doing all the same things nearly the same way they may have 10 or 15 years ago. It's much more about creating their individual look. Contemporary is hot. We're a fairly traditional business and that always has been strong.
Supply House Times: What excites you most about the industry right now?
DH: Possibility. After a few years of very tough times and working to keep your head above water, now there is a chance to really work on our businesses and do the things the way we want to and hire new people and take on new projects. It's an exciting time to be in the business.

Supply House Times: What do you like about being a Forte member?
DH: This is a group of the very best in the showroom business. We have vendors committed to the importance of the showroom and the people who work in the showroom, helping them develop their businesses. This is a great opportunity to be around the best of the best. We learn so much from each other at these conferences.

Supply House Times: What kind of business issues keep you up at night?
DH: The thing that keeps me up at night the most is developing good people, especially developing great salespeople in our showrooms. It's a long process that takes three or four years to really learn the intricacies of the business. The top-tier kind of person is a combination of an innate ability and an awful lot of hard work. Those are the kind of people we are looking for.

Supply House Times: Where do you see Forte headed in the near future?
DH: We have more of a focus on doing a few things well. We want to have a few people who do business very well as opposed to adding lots of numbers. We want members who all are running better businesses and making more money.
---
HELPFUL LINKS: