Retired Eastern Penn Supply Co. Vice President John Nesbitt Conyngham III died at his Dallas home Tuesday, Feb. 14. He was 88.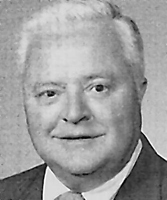 John Conyngham III died Feb. 4, 2014.
Conyngham served as Eastern Penn Supply vice president for more than 50 years. He worked for IBM prior to joining the family's Wilkes-Barre, Pa.-based distribution business.

Born Sept. 17, 1925, Conyngham attended Wilkes-Barre Academy, Wyoming Seminary, the Hotchkiss School, Colgate University's Marine Corps V-12 Program 1944 and graduated from Yale University in 1947.

He served in the U.S. Marines during World War II and the Korean War where as a platoon commander he was awarded the Silver Star for exceptional bravery in combat.

Conyngham also was active with many different local entities and charities. He is in the Junior Achievement Hall of Fame, received the Donchess Award for Distinguished Service from Wyoming Seminary and the Alexis De Toqueville Society Award from the United Way for his many years on the boards there.

Conyngham is survived by his wife, the former Betty Lou Carpenter, and his children, Ann Kerlin Conyngham, John Nesbitt Conyngham, Alison Conyngham Neisloss and Sarah Hollenback Conyngham, and his eight grandchildren. He was preceded in death by brothers William L. Conyngham and George Guthrie Conyngham.

In lieu of flowers, Conyngham's wish would be for mourners to support The Children's Service Center, the United Way of NEPA or the Jack and Lou Conyngham Endowed Scholarship at Penn State University.
---
HELPFUL LINKS: