A. O. Smith announced the appointment of David S. Chisolm as vice president-marketing for its North American water heater business.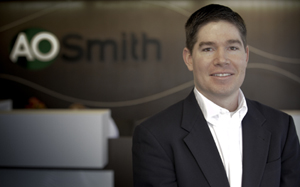 David S. Chisolm 
Chisolm will be responsible for strategic marketing, product planning and promotional activities for all of A. O. Smith's water heating brands. In addition, he will lead the company's marketing and product management functions to ensure alignment with the key growth initiatives of the organization. 
"David has a thorough knowledge of our business, our customers and our distribution channels," Kevin Wheeler, president and general manager of A. O. Smith's North American, India, Europe and Export (NAIEE) business unit, observed.  "He also has expanded our technology capabilities — especially our web and social media presence — to help create greater demand for our products in all business channels."
Chisolm has held a number of marketing management and brand management positions since joining A. O. Smith in 2004. For the last two years, he has served as director-marketing for the North American water heater business. 
Prior to joining A. O. Smith, Chisolm worked in marketing and sales for Masco Bath Co. He is a 1999 graduate of Union University, Jackson, Tenn., with a BA in International Business and an MBA from Eastern Michigan University.
---
HELPFUL LINKS: