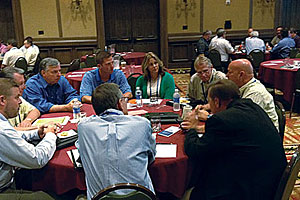 Reps discuss industry issues with their vendors during the AIM/R Rep Cafe. It marked the first time manufacturers were invited to join the round table discussions. Photo by Bob Miodonski/Supply House Times
The Association of Industry Manufacturers Representatives (AIM/R) opened its annual conference to manufacturers again this year, and 30 vendors attended the meeting Sept. 25-28 in Albuquerque, N.M. Last year in Boston, 20 manufacturers attended the AIM/R meeting.
The uptick in vendor attendance led to a lively exchange on the qualities they seek in a manufacturers rep. AIM/R Executive Director Doug Bower led the discussion along with members Bill Freeman of the Spirit Group in Orlando, Fla., Supply House Times' 2013 Manufacturers Rep of the Year, and Rick Banner of Keyline Sales in Downey, Calif. All attendees also received an industry forecast from economist Brian Beaulieu of ITR Economics. Ed Moran of OmegaFlex won this year's Golden Eagle Award, which recognizes the outstanding contributions of a manufacturer.
Information, please!
Asked in a recent AIM/R survey and during the Manufacturer Seminar in Albuquerque what they want from their reps, many vendors cited information. "There shouldn't be any secrets," one commented in the survey. "That applies to reps and principals."
Other survey responses indicate manufacturers want to know about changes in the rep's market, changes in the rep's agency, competitive information and sales success stories. During the seminar, vendors augmented these responses by telling reps they want to know about their agency's succession plan, their continued sales growth, how they plan to invest in their agency's infrastructure as their sales grow and how their other lines are doing.
When the subject turned to best practices, one manufacturer commented: "Our best reps do their homework. Our mediocre reps ask us for information about their market."
One of his colleagues added, "Our best reps are more likely to call us with feedback about the market – this market isn't that big or your product is not appropriate."
Another vendor said: "Regular communication is what I want. When you don't hear from a rep, it sends up a red flag."
A system for long-cycle sales is important for one manufacturer, who said he wants his reps to have a system in place that tracks projects and follows through on them. The best reps invest in training and participate in AIM/R, one vendor noted.
"The first thing you need to do is hire good reps," a manufacturer said. "That's a given."
Economic optimism
Although construction is improving, it will hit a soft spot next year, Beaulieu said. "Be cautious for 2014, but be aggressive in 2015, '16 and '17. The wind will be at our back," he advised. "We're concerned about 2018 to 2020. There's no serious problem between now and then. We see lots of opportunity in the next four to five years. You don't have to worry about inflation. Now is the time to borrow to invest in your business."
In fact, he said, reps are looking at the lowest interest rates they will see for the rest of their business careers. Banks are lending more money this year than last, which is good for next year.
One dark cloud is rising taxation. The government can't control its spending so taxes will increase, he said. With no near-term solution for the national debt, taxes will have to go up to resolve it.
Employment is still rising with 150,000 jobs growth per month. Beaulieu cautioned that the numbers aren't in yet on the impact of the Affordable Health Care Act.
"Do you have enough qualified people to be prepared for the rise in the nation's gross domestic product?" he asked.
Stew Chaffeeof Rich-Tompkins Co. in Aston, Pa., revealed the location of next year's conference — Squaw Valley Resort near Lake Tahoe in Northern California, Sept. 29-Oct. 2.
---
HELPFUL LINKS: