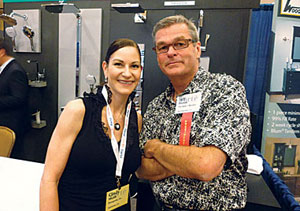 Hansgrohe's Cindy Welsh (left) with 2013 Forte President Jeff Burton (The Bath + Beyond) at the Forte 2013 Conference in Dallas. The conference brought together more than 150 principals as well as 65 preferred vendors. Photo by Alan Primack.
The recent Forte 2013 Conference at the Fairmont Hotel in Dallas brought together more than 150 principals operating in excess of 250 showrooms across North America, as well as 65 preferred vendors.
The news for Forte principals was positive. According to Forte, volume in the decorative plumbing and hardware buying group's channel increased by 10% in 2012, while same-store sales increased by a comparable percentage. Forte welcomed five new preferred vendors who attended their first Forte conference in Dallas.
New Forte programs include a peer-to-peer network that debuted in Dallas. Forte shareholders now have a permanent group of peers with similar business models outside their market territories to discuss challenges, opportunities and trends at the annual conference and summer meeting.
Additionally, the buying group has compiled a large electronic library of manufacturer catalogs and price lists. Every Forte shareholder can download the most up-to-date Forte Preferred Vendor catalogs and price lists.
"People get a lot of camaraderie here and get a lot of ideas from our seminars, both our self-learning seminars and our group seminars. Networking is very valuable for everybody," Forte 2013 President Jeff Burton (The Bath + Beyond) said in a video interview with Supply House Times at the conference. "On top of that, we have product, special deals, vendors coming together and we've put together good partnerships with all the manufacturers."
Forte also presented its seventh-annual awards ceremony that honors outstanding achievement, professionalism and commitment to advancing the interests of Forte, its shareholders and preferred vendors.
Victoria + Albert Baths was named Forte 2012 vendor of the year. Douglas Hermance (Westheimer Plumbing & Hardware) was the recipient of the Forte 2012 President's Award. Cantu Bathrooms & Hardware(Vancouver, B.C.) was named 2012 showroom of the year. David Yowell (Hollywood Builders Hardware), Allison Trimble (Ginger's Bath Centre), Bruce Whiteleather (B & C Custom Hardware) and Rebecca Whiteleather (B & C Custom Hardware) all were honored with distinguished service awards.
The Forte summer shareholder meeting is June 16-17 in Chicago and the Forte 2014 Conference is Feb. 20-22 in Miami. Video interviews from the conference are available at http://www.supplyht.com/video.
---
Helpful Links: