Industrial PVF
Latest News
Michigan Seamless Tube expands facilities
Michigan Seamless Tube announced it is slated to complete construction on a new 9,600-sq.-ft. pickling house at the end of January. The new pickling house will be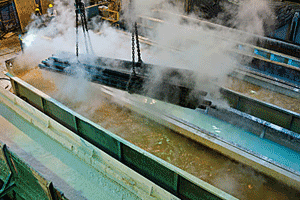 Michigan Seamless Tube's new 9,600-sq.-ft. pickling house is nearly completed. Construction is expected to wrap up at the end of January. Photo courtesy of Michigan Seamless Tube.
the fifth of its kind at the company's 320,000-sq.-ft. facility, enabling MST to produce an additional 450 tons of product on a monthly basis. The pickling process is a surface treatment that removes oxides and scale from steel tubes, and is an integral part of the cold-drawn process.
"The addition of a fifth pickling house is part of our broad plan to invest capital and resources into our facility so we can materially improve production capacity to better serve our customers," MST Vice President of Operations Les Whitver said. "In addition to increasing our production capacity roughly 13%, the new pickling house will allow us to reduce material and maintenance costs, helping us to achieve a quick return on our initial investment."


I want to hear from you. Tell me how we can improve.