Sorry James Brown, but this is no longer a "Man's World." Today, women work in just about every field and industry, proving they can do just about anything a man can do. U.S. Census statistics show more and more women have been entering previously considered male-dominated industries, including construction.
However, though women make up nearly half of the U.S. workforce, only 2.1% are plumbers, pipefitters and steamfitters, according to the U.S. Department of Labor's Bureau of Labor Statistics as of January 2022. These low numbers lead to long lead times on projects, affecting distributors, manufacturers and every level of the PHCP-PVF supply chain.
The skilled trades can offer women a great career path with equal pay, room to advance, and in return, women can help fill the need for workers during a time when most industries in the U.S. are experiencing labor shortages. The problem is most women have never seen a woman plumber or HVAC technician, and therefore don't see it as a career path for themselves.
The industry is working on changing that. For example, in January, Matco-Norca announced its partnership with Plumbers Without Borders (PWB), a non-profit organization traveling to help communities in need of safe plumbing and hygienic sanitation.
Matco-Norca's sponsorship will support an important industry initiative — bridging gender-parity in the trades and closing the skills gap worldwide. "We will work with PWB on a detailed strategy that includes digital, traditional and event marketing to reach a larger, more targeted audience. Our employees are looking forward to rolling up their sleeves and getting involved on multiple levels," says Matco-Norca's Director of Marketing Amy Zucchi.
Supply House Times sat down with Zucchi, Jeff Morgan, founder of Kansas City, Missouri-based Morgan Miller Plumbing and a PWB board member, along with a few female plumbers to get a pulse for where the industry stands when it comes to gender parity and hear the plans for the Matco-Norca and PWB partnership. Listen to an exclusive podcast of this conversation here.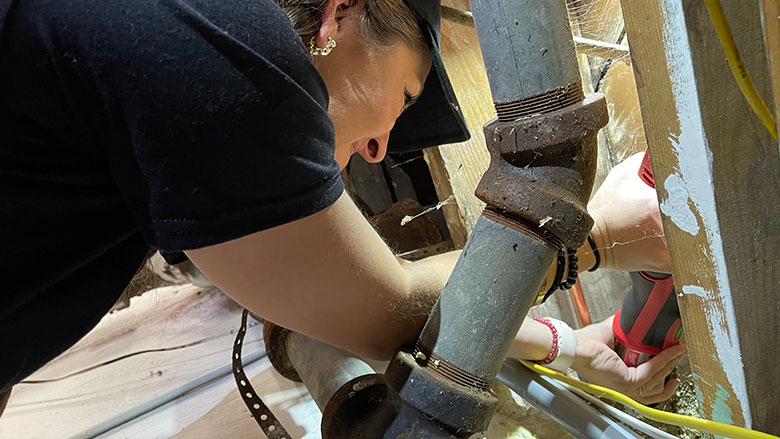 Goals align
When Zucchi joined Matco-Norca in early 2021, one of her top priorities was to find a not-for-profit organization to become involved with. "While Matco-Norca was making donations and supporting charity organizations, I really wanted to find an organization who'd goals aligned with our own to work closely with," she explains.
Aware of the major labor concerns within our industry, along with other trades that correlate to plumbing and HVAC such as trucking, Zucchi began to focus on building a plan that would help attract the next generation of plumbers, and taking it another step further — the next generation of female plumbers.
Through her research on this topic, Zucchi found PWB and reached out. "One reason I was really drawn to working with PWB is that they were very flexible in letting us customize our sponsorship, and they immediately offered up any support I might need to get this started" she says.
The partnership is new — just a few months old — so Zucchi's focus now is to get the word out about the initiative industry-wide, joining forces to work towards closing the skills gap and gender gap throughout the PHCP industry.
Jeff Morgan, who has been involved with PWB for more than six years, says that PWB emphasizes just how important the plumbing industry is. "As a third-generation plumber, I've always appreciated how vital plumbing is to society," he says. "But through my volunteer work with PWB, I've become even more aware of how vital plumbers are. The goal is to amplify that message so more people view the plumbing trade as an important place to work."
PWB volunteers travel worldwide to help supply clean, safe water to communities that are struggling, and Zucchi points out this mission, coupled with PWB's disaster relief efforts, are things Matco-Norca feels strongly about supporting.
A more diverse workforce 
A shift toward gender parity is beginning to happen, but there is still a long way to go to see more female representation in the plumbing world.
Tosha Everhart, is a brand manager turned plumbing apprentice for Kansas City, Missouri-based Morgan Miller Plumbing; she will complete her apprenticeship this year and begin working in the field as a plumbing contractor.
"During the freeze, PWB started sending volunteers down to Texas to get people water. Jeff held a quick backyard plumbing class for me in the warehouse and I went down there with him to help," she says. "After seeing that work, I started asking questions about if it were possible for me to work in the field."
Everhart says social media is a great tool to spread awareness about the opportunities and behind-the-scenes of a career in plumbing. "Following women on social media outlets who showed the behind look at plumbing is what sparked the interest for me," she says. "Technology is a great tool to display that women can and are working in trades."
Attract and retain
It has arguably never been more vital to attract more people into all levels of the PHCP-PVF workforce and supply chain. Morgan says we should be simply "Always be looking and always be bragging about what we do."
"We need to constantly be shouting to the next generation that our careers are fulfilling and fruitful," he says. "And always be having conversations like this one we're having now; the goal is that years from now we won't need to have this conversation."
Everhart points out that from her perspective — someone who now has experience in multiple roles — it comes down to respect and benefits.
"It's not just about pay," she says. "It's about other benefits and how I'm treated; those are the details that will make me stay somewhere."
Zucchi adds that it's important to evaluate your benefits ensuring they are helpful to both men and women in the workplace. "Offering flexibility for those who have families goes a long way."
Zucchi and Morgan agree that education efforts are key in bridging the skills gap worldwide.
"Throughout the pandemic, people became much more aware of how crucial trade jobs are," Morgan says. "After everything we have been through, it has never been easier to become a tradesperson, never has it been safer — with today's technology — and never has it been more lucrative. We have a country to rebuild now, and we need everyone on board."
Zucchi and Morgan note investing heavily in trade school visits, apprentice programs and mentorship initiatives are all on the docket.
"The next generation of potential tradespeople, especially women, aren't always aware of the opportunities, extensive technology, job security and profitability trade careers can provide," Zucchi says. "For example, I loved my shop class growing up. Maybe if I had known the potential there to make a living off of those skills, I'd have thought of it has a career path."
Again, Morgan says a shift toward age and gender parity in plumbing is happening, but it is "painstakingly slow."
In order to speed things up and support PWB and Matco-Norca's initiative, Zucchi says getting the word out is most important.
"Spread the word about what we're trying to do," she says. "Hire interns. Create an open and welcoming work environment where younger people and women are not intimidated or reluctant to join."
Specific to working towards a more diverse workforce, Everhart echoes the importance of having an open mind when hiring. "Just because there is a female name on an application, don't write it off and assume you'll have to spend more time training. Be open to the fact that a women can pick things up quickly and learn from your other, more seasoned, employees just like any other candidate could."
Morgan points out that since Everhart began her apprenticeship, many clients she's interacted with have said "Anytime we need anything in the future, send Tosha."
In addition to being open, Morgan adds that being public and celebratory about women who are in the PHCP-PVF world will help turn the corner towards a more diverse workforce overall.
More examples of women in plumbing
Beth Rovazzini, president of Indianapolis-based B&W Plumbing and Heating and a member of PHCC of Indiana, never planned to run the family plumbing and heating business, but fate had other ideas. She actually started her career as an accountant.
"My Barbie never installed toilets or furnaces," Rovazzini notes. "I went to school, got a degree in accounting and actually went to work for a Big Eight accounting firm. Then, my brother passed away, which kind of changed the dynamics. There was just the four of us. My parents had purchased a restaurant when he died just to have something to distract them. I actually hated being in accounting, so I came over and ran the restaurant for about five years until we sold it. After that, I came to run the financial side of B&W. Then, one day, my parents told me their retirement plan was for me to purchase the business, so I did with three other partners."
Rovazzini says she has never experienced any discomfort or hard times working in a male-dominated industry. "It's not like how they portray it in the movies. There are sometimes awkward moments, but a lot of it is just confidence in yourself and really doing the right thing. You have to have the confidence — when you walk into a job trailer and there are 40 guys in there, and you're the only woman, it goes dead silent. If you let that get to you, it could be a problem. But if you just say, 'OK, are we doing this meeting or not, guys?' If you're comfortable, everyone around you will be comfortable.Rovazzini notes there have been times when job site foremen and superintendents would tell her they thought she wouldn't know what she was talking about or that she would be hard to work with, and in all cases, the men were pleasantly surprised.
"There's a lot of advantages to being a woman," she notes. "We're usually better at following through on things. We're much better at listening, so that tends to make a lot of things go better. And I think the key, too, is knowing what you're talking about. A lot of times men fake it with bravado, and as a woman, I can't fake it. I better know what I'm talking about, so I better do my homework. I need to actually know what's what."
One of the best things about this industry is people are willing to share their knowledge, Rovazzini explains."If you're teachable, no matter what industry you are in, people that are competent want to share their knowledge. I see that all the time with our plumbers and our apprentices. If that apprentice has the right attitude and is like a sponge, our older guys will spend a lot of time and effort teaching them. But if you've got an attitude or act like you know everything and there's nothing for you to learn, then they're not going to waste their time either."
Rovazzini says for the most part, there are no physical limitations preventing women from becoming excellent plumbers and HVAC technicians.
"It's not like you need to be able to lift 400 pounds or anything like that," she says. "Especially on the service side. Women are more detail-oriented. Most women are better communicators because they listen better. And the pay — that's one thing about construction. You hear a lot of people in business groups always talking about pay equity and the glass ceiling. You don't have that in construction. If you can do the job, you're going to be paid the same thing. It's not where if you're the executive director of an organization and you're a woman, yeah, you're probably going to be paid 20% less than if they gave that job to a man. That's just how it is. It's not right, but that's how it is. But in construction, if you're a licensed plumber and you're female, you're going to make the same amount as your male counterpart. If you can do the job, I don't care if you are purple. Do the job, and that's fine with me."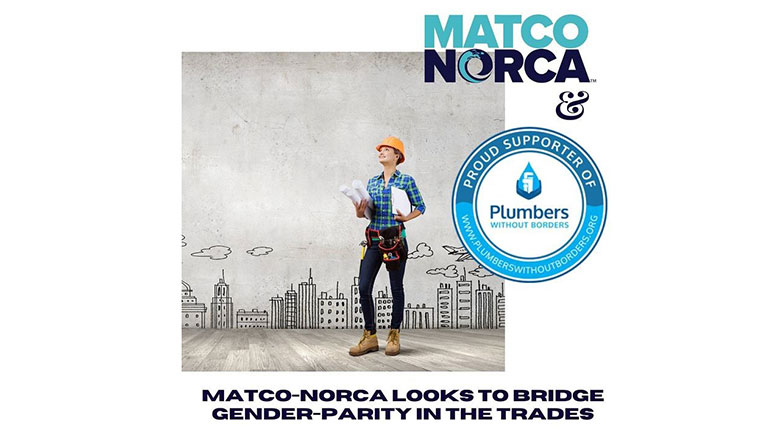 The trades benefit from having more women join as well, Rovazzini notes, because there is a larger job pool.
"What's really happened to us is everybody is recruiting out of the same young male pool," she says. "Well, young men today have so many other options. I mean, you can actually make a living playing video games these days. 50 years ago, there were not this many options — you went to work at a factory, worked on the farm, got a white collar job or you went into a trade. Today, there are so many options available to an 18-year-old male, they're choosing other things. And our pool kept getting smaller and smaller. Expanding our pool to include women doubles our potential workforce."
While B&W doesn't have any current women in the field, it has in the past. Rovazzini, like many other contractors, finds it difficult to recruit women because most women don't see themselves in the position.
"It's not like Barbie ever had a toolbox — maybe she should," Rovazzini says. "We need to get out in the middle schools, high schools, adult education centers and in the community. What I see so often with other contractors is they have an immediate need — we all do. But I also know I'm going to need somebody five years from now, 10 years from now. If we don't keep adding people to the industry, we're actually devaluing our companies because there won't be anybody down the road. Then we're going to have to consolidate because there won't be enough people to do the work."
Once you're in, you can never leave…
Karen Hill, vice president of HM Plumbing in Marietta, Georgia and QSC Advisory Council member, got involved with the company to help her husband. She never planned to stay long-term, but she's still going strong 14 years later.
"My husband started the company in 2007, and I was a vice president of marketing for a high-rise condominium developer. When the mortgage market crashed in 2008, you couldn't give away a condo, so I lost my job and I was devastated. So I told my husband, 'I'm going to help get the company going because I have a business and marketing background. I have the skills and I'm going to help you get it together. But just know, when I get that phone call that I have my high-rise office back, I'm out of here, it's going to be short-lived.' That was in 2008, and I'm still here."
In that 14 years, Hill has learned plumbing as well as obtained her journeyman's license, and very recently, her master plumbing license. Hill manages everything on the internal operations side of the company from the dispatch team to insurance to payables and receivables to customer service. HM Plumbing has grown to 23 employees, including one female journeyman plumber who serves as an estimator in the office.
"I now have a passion for it," Hill says about plumbing. "My dad was in aviation mechanics, so that work ethic is the same, you're working with your hands and there's a beginning and an end. This is what my husband does and I'm here to support him. I don't have the desire to go and search for that corporate corner office any longer, it's not my thing anymore. I'm pretty comfortable where I am, and I'm very involved with PHCC on the local level. I'm hoping to get more involved on a national level to help educate not just children, but parents as well that this is an admirable industry with a great career path."
According to Hill, the industry can benefit from having more women plumbers and technicians because of their attention to detail.
"Women's skillsets are different from men, and there's nothing wrong with that," she says. "They traditionally have a strong attention to detail, they're traditionally tidier — just those two things there make a homeowner more comfortable. We need to expose the women that are in the industry to show this is not just a male-dominated business. We've already broken the glass ceiling, but it's the exposure that we — me included — are lacking. We need to be better at exposing that to the public and to colleges and other institutions."


"It's not like Barbie ever had a toolbox — maybe she should. We need to get out in the middle schools, high schools, adult education centers and in the community. What I see so often with other contractors is they have an immediate need — we all do."
Beth Rovazzini, president of B&W Plumbing
Third-generation going strong
Laura Ciriello, president of Beech Grove, Indiana-based William J. Ciriello Plumbing Co. and national secretary-designate for PHCC — National Association, came by her profession honestly — it's in the blood. Ciriello's grandfather started the company in 1952, which was passed onto her father until she finally purchased it about 12 years ago. Today, the company has 17 employees.
"Growing up in a family business, regardless of what the business is, you're always somewhat involved in it," Ciriello explains. "I had to wash trucks, sweep floors, answer phones and things like that. I didn't really think that that was the path that I was going to end up taking. All I knew was I wanted to go into business.
My dad took me to lunch one day, and he asked me, 'Have you ever considered the family business?' I said, 'No, not really." He said, 'Well, you're kind of bossy.' I was kind of bossy. I loved business. Really, it could have been anything, but I'm proud that it's plumbing."
Ciriello holds a plumbing contractor license, which is the highest license in her state. The day she took her test, she was the only woman out of about 200 people testing.
"There was a practical portion and a written portion of the test and they split the group in half," she says. "I remember sitting in the written portion and there are two proctors of the exam walking around. The proctors said to each other, 'I hear we have a woman in here today, I wonder where she's at?' I was literally right next to them. I had my hair in a ponytail, jeans on and work boots. I guess I was a bit more camouflaged than I thought. It made me laugh. But I aced the test, both the practical and the written. I was probably more determined to ace the test because I wasn't supposed to, I guess."
As a business owner, Ciriello knows women can absolutely succeed in plumbing and views them as an untapped employment pool.
"We have a female technician on staff, and she's doing wonderfully," Ciriello says. "Unfortunately, we're still in a day and age where you're not sure exactly how they're going to be received. It probably helps that her boss is a woman, too. Every once in a while, she'll get some pushback, but for the most part, she's really been embraced. I think it has everything to do with her work ethic. I think women sell themselves short by not considering something that's not traditionally thought of for them. There are certain times when she would be the preferred technician, based on how small of a space it is, or the very finite motor skills that women have, inherently, because their hands are smaller. Typically, they're also better communicators."
Like anything in life, plumbing contractors need to show women that it's possible to succeed in this industry, Ciriello notes.
"If you can see yourself in it, then you're going to be more apt to consider it," she says. "We, as an industry, have to promote the fact that female technicians not only exist, but thrive. Then as contractors and employers, we really need to create an environment where that is encouraged and sought after.
"It's really not as hard as we think it is," she adds. "You have to be really open to being different. My female technician is tough, and she would succeed no matter where she was. That kind of drive makes this transitioning into a job that's not common even easier."